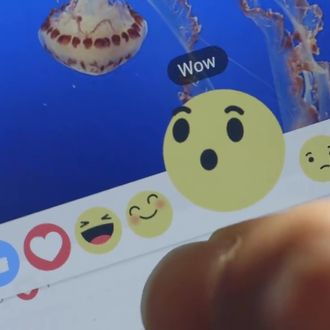 Until now, the only way to show how you felt about a Facebook post was to like it. Well, you could write comments like "lol" or "thats crazy :0" or "😎😎😎😎" but that requires multiple button-presses, and who has the time these days? Practically since the like button's inception, users have been clamoring for a dislike button. Instead, Facebook is rolling out five more Reactions to let users more accurately express their response. In addition to clicking like, users will soon have the option to select from a menu that also includes angry, sad, wow, haha, and love. ("Yay" was scrapped because it was not universal enough.)
But how is one actually supposed to deploy these new reactions? Navigating the murky waters of social media can be dangerous, so here's a guide.
—


Status: "This clip from last night's Jimmy Fallon is amaaaaaaazing!"
Everyone else: Haha reaction
You: Wow reaction, as in, "Wow, please get off my feed."
—


Status: A picture of an engagement ring with the caption "OMG! Justin proposed and I said yes!!!"
Everyone else: Love reaction
You: Haha reaction, as in "Haha marriage is a tool of the patriarchy that you've willingly trapped yourself in."
—


Status: "Went out to my car this afternoon to find the window smashed and my radio gone. Worst day ever!"
Everyone else: Anger reaction
You: Haha reaction, as in "Haha I don't know why we're friends on Facebook and I don't care to remain on good terms with you."
—


Status: "Got an amazing glimpse of the meteor shower tonight! This tiny blue marble that we call home is just one infinitesimal speck in a vast universe!"
Everyone else: Wow reaction
You: Haha reaction, as in "Haha I can't believe you think the Earth is round."
—


Status: "RIP Grandpa. You were a shining beacon of hope and I will miss you forever. I love you and I'm happy that you and Grandma are together in Heaven."
Everyone else: Sad reaction
You: Haha reaction, as in "Haha, heaven isn't real and religion is the opiate of the masses."
—
The company has been testing the feature since last October and is finally ready to roll it out worldwide, which means you no longer have to click like on breakup announcements. And for the people writing those downer announcements, you no longer have to structure them in a way that makes liking them seem like the appropriate response.
There is an obvious side effect of adding more granularity to how people can react to Facebook posts: It gives Facebook and advertisers a better idea of who you are and where your interests lie. If, for example, you were to continually use the angry reaction on posts about Donald Trump, you might see fewer posts about him.
Facebook says Reactions should start rolling out in the next few weeks.