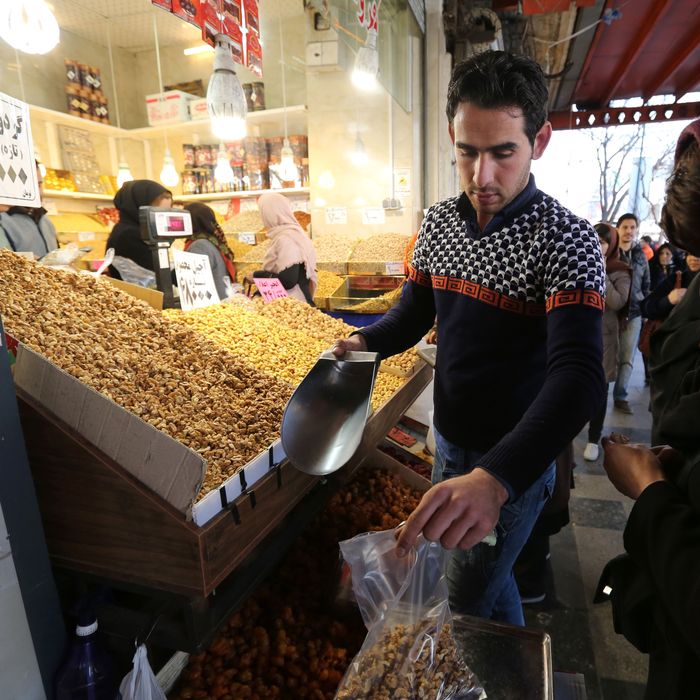 Bring on the (world's greatest) walnuts and pistachios.
Photo: Atta Kenare/AFP/Getty Images
United Nations nuclear agency inspectors confirmed on Saturday that Iran has met its commitments as agreed to in last summer's historic U.S.-led nuclear agreement, and per the deal, the U.S. and European Union have now lifted international sanctions on the country, according to the Associated Press. As a result, Iran will now have access to some $100 billion in frozen assets, and is, more generally, free to rejoin the international economic community, ending years of isolation and simmering tensions over its nuclear program. 
"Today marks the moment that the Iran nuclear agreement transitions from an ambitious set of promises on paper to measurable action in progress," said Secretary of State John Kerry in Vienna. "Today, as a result of the actions taken since last July, the United States, our friends and allies in the Middle East, and the entire world are safer because the threat of the nuclear weapon has been reduced." The fact that Iran has fulfilled its end of the deal thus far, and that their compliance has been confirmed by IAEA inspectors, has, for now, solidified the agreement as one of the Obama administration's hallmark foreign-policy achievements.
Though Iran will still have the ability to have a peaceful nuclear program, as part of its compliance with the agreement the country has already dismantled more than 12,000 centrifuges, disabled the core of its heavy-water reactor, and shipped nearly all of its enriched uranium out of the country for processing. But while the agreement was originally celebrated in Iran over the summer, as the New York Times's Thomas Erdbrink notes, the end of sanctions is not stirring much emotion back in Iran right now. He says that reflects sustained economic malaise in the country, and how everyday citizens remain wary of how much the long-delayed accord will actually impact their lives. There's also the very public disenchantment that the country's hardliners feel with the agreement, considering it a defeat in part because it was a diplomatic win for the country's more moderate president, Hassan Rouhani, and in part because they have often benefited both politically and financially from the country's isolation.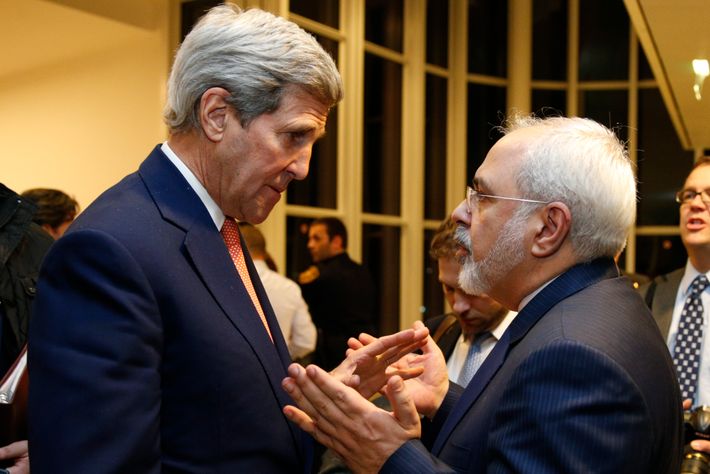 Not all sanctions will be immediately lifted now that the deal's "implementation day" bar has been passed, as some will remain in place for about ten years while Iran's continued compliance is monitored. Iran will immediately be able to begin selling its oil on the world market, however, and it can once again connect its banks to the world financial system. In related news, Airbus will be selling 114 civilian aircraft to Iran now that sanctions are lifted, replacing much of country's badly-aging commercial airliner fleet, and demonstrating how aggressive Europe and Asia are likely to be in the newly available Iranian market.
As for most U.S. companies, decades-old sanctions resulting from Iran's designation as a state sponsor of terrorism will remain in place and prevent direct dealings in most cases, but there will still be some new business opportunities available through subsidiary companies, and the U.S. aircraft industry has been granted a waiver so they can sell civilian airplanes to Iran if they want. Another issue for U.S. companies is that there remains an almost complete U.S. trade embargo and a variety of sanctions that only the Republican-controlled Congress can remove. It's also possible that many U.S. companies will stand back from the Iranian market regardless until they see who wins this year's presidential election, since it seems more than likely that a Republican president would try to reimpose sanctions in some form.
In another related development earlier on Saturday, the U.S. and Iran conducted a prisoner swap, timed to coincide with the lifting of sanctions, which saw four Iranian-Americans released from prison and allowed to leave the country, a group that included Washington Post reporter Jason Rezaian.
This post has been updated throughout to incorporate additional details and analysis.