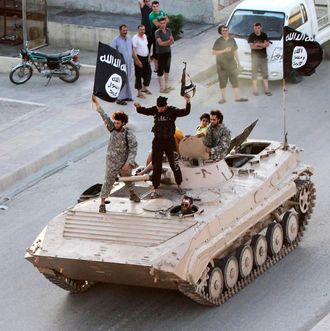 Photo: Stringer/Reuters/Corbis
Two men, both Iraqis of Palestinian descent who came to the U.S. as refugees several years ago, have been arrested in California and Texas on terrorism-related charges, providing fresh rhetorical fodder to politicians and pundits calling for a halt to refugee admissions from the Middle East.
Aws Mohammed Younis Al-Jayab, the Los Angeles Times reports, was arrested in Sacramento on Thursday after federal immigration officials determined that he had lied about his affiliation with terrorist groups in Syria.
According to the complaint, the 23-year-old first entered the U.S. as a refugee in 2012. At the time, he allegedly expressed a desire to travel to Syria and fight alongside terrorist organizations.
Al-Jayab traveled to Syria in November 2013 and returned to the U.S. the following January. Later in 2014, he told immigration officials that he had gone there to visit his grandmother, but he subsequently posted on social media that he had joined groups including Ansar al-Islam, an Islamist insurgent group that later merged with ISIS.
Benjamin Wagner, the U.S. Attorney who announced the charges, said there were no signs that Jayab had planned to commit any terrorist acts on U.S. soil, but the man still "represented a potential safety threat." If convicted, he could face up to eight years in prison and a $250,000 fine.
Also Thursday, FBI and Homeland Security Investigations agents arrested Omar Faraj Saeed Al Hardan, 24, who came to the U.S. as a refugee in 2009 and became a permanent resident in 2011, on charges of providing material support to ISIS, KTRK-TV Houston reports.
Al Hardan also allegedly lied in his application for U.S. citizenship, saying that he had no affiliation with terrorist organizations when in fact he had been affiliated with one for some time; the three-count federal indictment also claims that he lied to officials about his firearms training. He is due in court on Friday morning, at which time more information about the arrest is expected to emerge.
Justice Department spokesperson Angela Dodge stressed that there "is no current threat to public safety associated with this arrest."
In a prepared statement praising the FBI for the arrest, Texas's Republican governor Greg Abbott took the opportunity to renew his call for stopping the resettlement of refugees from "countries substantially controlled by terrorists."
"I once again urge the President to halt the resettlement of these refugees in the United States until there is an effective vetting process that will ensure refugees do not compromise the safety of Americans and Texans," Abbott said.
At this time, the two arrests do not appear to be connected to one another.