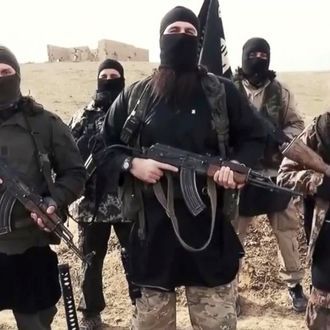 Should have learned to code.
Jihad doesn't pay (as much as it used to): ISIS is cutting the monthly salaries of its fighters by 50 percent, as the group struggles to fund its multifront wars and fledgling state, according to newly leaked documents.
"Because of the exceptional circumstances that the Islamic State is passing through, a decision was taken to cut the salaries of the mujahedeen in half," reads a government memorandum obtained by the Syrian Observatory for Human Rights and translated by The Guardian. "No one will be exempt from this decision no matter his position, but the distribution of food assistance will continue twice a month as usual."
ISIS had been one of the region's best-paying militias, with soldiers earning between $400 and $1,200 a month, plus a $50 "wife stipend" and $25 for each child in 2015, according to the Congressional Research Service.
Syrian Observatory head Rami Abdel Rahman told AFP that the wage cuts will leave Syrian ISIS fighters with roughly $200 a month, whereas foreign fighters, who are generally paid double to reward their travels, will see their monthly income brought down to $400.
One of the headwinds facing the ISIS economy is the U.S.-led bombing of their energy sector, with air strikes taking out oil trucks, storage tanks, and refineries. The coalition has also targeted the Islamic State's money — literally, with missiles. Last week, the U.S. dropped a pair of 2,000-pounders on a building in central Mosul, destroying millions of dollars' worth of ISIS cash.
Like any other state, ISIS faces a large challenge as it tries to maintain a functioning government on limited tax receipts. CNN Money notes that ISIS pays engineers and technicians upward of $1,500 a month to provide reliable electricity. The network calculates that in its most successful year ISIS pulled in roughly $2 billion in revenue — roughly the same amount that it cost previous governments to maintain the portion of Iraq that the jihadists now govern.
For now, though, ISIS still has enough funds to support its branded-content division. The Mirror reports that the terror group has released a new video featuring clips from the Muammar Gaddafi–backed 1981 film The Lion of the Desert. The movie stars British actor Oliver Reed and depicts the victory of Libyan forces over Mussolini's invading army.
ISIS layers a threatening voice-over atop its mash-up of scenes, promising that its caliphate will expand until the black flag flutters over Rome. Or until their fighters find a better-paying doomsday cult. One or the other.