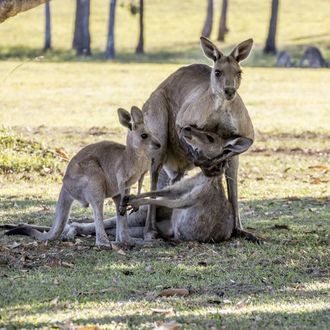 News outlets from around the world recently carried the heartrending story of a dying female kangaroo reaching for her joey in her last moments, while her male partner seemed to be lifting her up to check on her. But all of the sadness directed at the fallen marsupial turned very strange when experts pointed out that the male kangaroo wasn't being sweet … he was being horny.
Fucking hell, the 'mourning kangaroo' pic I retweeted last night was actually a sexually aroused male. The cheeky necrophiliac marsupial.

— Charlton Musgrove ® (@jizlobber) January 14,

 

2016
Outlets like People shared a sentimental description of the scene from the photographer who captured it, Evan Switzer: "I saw the male pick up the female, he looked like he was just trying to get her up and see what was wrong with her," Switzer said. "He would lift her up and she wouldn't stand she'd just fall to the ground, he'd nudge her, stand beside her."
But anthropologists weren't so moved by the male 'roo's gesture. Dr. Derek Spielman, a University of Sydney professor, told the New York Post he had "no doubt" the kangaroo was trying to have sex with his dying mate.
Spielman explained that competition for sex is fierce among male kangaroos, and they often violently harass females, sometimes even killing them in the process. It's pretty grim out there in the outback, it turns out.
"[Killing] is not their intention but that unfortunately can be the result,"  Spielman explained, "so interpreting the male's actions as being based on care for the welfare of the female or the joey is a gross misunderstanding."
He chalked up all the "aww"-ing over the cute kangaroo couple to "naïve anthropomorphism." Once again, nature notches a sick burn against the downtrodden public who just wanted to have something nice for once.
Thanks for nothing, kangaroos, you adorable little necrophiliacs.