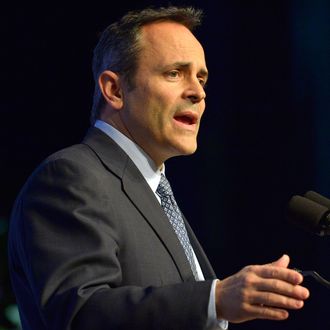 Kentucky governor Matt Bevin addresses the Kentucky Chamber of Commerce dinner, Thursday, January 7, 2016.
Photo: Timothy D. Easley/AP/Corbis
Kentucky's newly elected tea-party governor has notified the Obama administration that he will dismantle Kynect, Kentucky's state-run insurance marketplace, and replace it with the federal enrollment site healthcare.gov. At first blush, it may seem odd that a small-government conservative would outsource a local institution to the Washington Cartel. But by compromising his commitment to federalism, Governor Matt Bevin advances one of his administration's top priorities: ensuring that Obamacare works as poorly as possible for Kentucky residents.
Built with nearly $300 million in federal grants, Kynect developed into one of the Affordable Care Act's greatest success stories. In its first year of operation, the marketplace extended coverage to more than 521,000 Kentuckians. The state's uninsured rate fell from a little over 20 percent in 2013 to just 9 percent by the middle of last year. Still, the program did have one fatal flaw — it made some Kentucky residents think that government programs could actually help them. And everyone knows that the road to serfdom is paved with such thoughts.
But Bevin's reforms should fix that defect by making government health care more costly — both for taxpayers and consumers. Switching to the federal marketplace is expected to cost the state $23 million. And while Kynect charged insurers a fee equal to 1 percent of premiums to sell over its marketplace, HHS charges 3.5 percent. Insurers are expected to pass some of that heightened cost on to members in the form of higher premiums.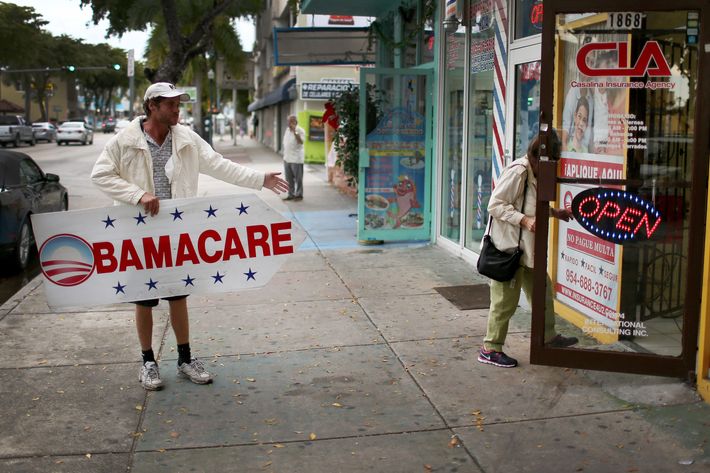 And the new governor isn't merely delivering more expensive health care for his constituents; he's also making the process of securing insurance more confusing.
"It'll be like driving a Honda versus driving a Ford or a Toyota. You still have a vehicle to get you there, but it's a totally different experience," Dan Schuyler, a senior director of exchange technology at Leavitt Partners, told Politico. "There will be some disruption, there will be confusion. There will be some attrition."
Bevin did backtrack on one of his promises to Kentucky voters. Instead of throwing hundreds of thousands of poor people off Medicaid, as he had pledged, the governor will now settle for merely charging the indigent more money for basic health care. Which is probably the fiscally responsible thing to do, what with the $23 million cost of providing an inferior health-care system for all Kentuckians.
You may not agree with Bevin on everything. But you have to admire any executive who's willing to make tough compromises to keep campaign promises and get things done. Good governance isn't dead.