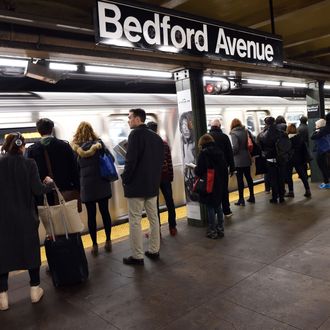 It was once so simple.
Photo: Don Emmert/AFP/Getty Images
The morning L train commute is like a continuation of the previous evening's nightmare: The train is packed tighter and tighter as it heads in from the east, adding ever more young underslept professionals as it nears Manhattan, with no release until Union Square, where almost everyone pours out. (The L serves 300,000 riders on an average weekday.) And underneath it all lies a very fragile piece of infrastructure: The Canarsie Tube, the tunnel that carries the L under the East River, was badly damaged during Hurricane Sandy and still hasn't been properly fixed. (Pumps, cables, and concrete were all wrecked by salt water.) To repair it, the MTA can try its usual part-time, nights-and-weekends, fix-it-slowly-over-the-course-of-a-decade scheme. This time, though, it's looking to just pull off the Band-Aid and, as Gothamist reports, close the whole line. For three years.
Alternatively, the MTA is considering a second option: closing one side of the line (there are separate Manhattan-bound and Brooklyn-bound tunnels) and continuing very limited service, but the prevailing view seems to be that a full shutdown will actually be less painful. Either way, the MTA expects work to begin sometime in late 2017, and will compensate with increased M train service, two extra cars on G trains, and shuttle buses to fill in the gaps. According to a bid outline that was made public last year, the repairs are planned to take 40 months and cost more than $50 million.
The R train Montague Tube, which carries 65,000 riders a day and was among the most severely damaged parts of the system during Sandy, was fully repaired after a 13-month closure, and other lines' repairs are still under way.