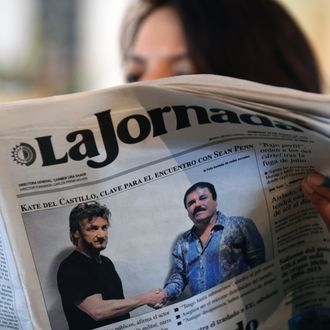 A woman reads
La Jornada
newspaper in Mexico City, on January 10, 2016.
Photo: Alfredo Estrella/AFP/Getty Images
Wonder just how crazy the raid that led to Joaquín "El Chapo" Guzmán's capture must have been? No need to imagine or wait for Sean Penn to find it and then write a story about how it made him feel — Mexican authorities gave footage from the helmet of one of the Marines storming the drug lord's secret hideout in Los Mochis to TV show Primero Noticias so you can see it for yourself. 
There is lots of scrambling around in the dark, gunfire, grenade throwing, and shouting in the nearly 15-minute-long video, which was filmed before dawn last Friday. 
According to ABC News, the Marines found hidden doors, injectable testosterone, and lots of cookie wrappers inside El Chapo's bedroom. The house also had internet.
Five of El Chapo's guards were killed during "Operation Black Swan," and another four people in the house were detained, not including El Chapo, who escaped through a storm drain hidden behind a secret mirror door and was later captured after exiting through a manhole and stealing a car after pointing a gun at its driver. (You can't have a story about El Chapo without a tunnel.)
After he was captured, El Chapo reportedly said, "My holidays are over."
Meanwhile, it's still unclear exactly where El Chapo will end up now that the authorities have him. Mexican officials say they are processing extradition requests for El Chapo from the U.S., where he is wanted for drug trafficking and other charges. However, the process will take at least a year, partly due to the fact that El Chapo can appeal any extradition. Another lawyer told USA Today that it could take far longer than a year.
He is currently being held in Altiplano, the maximum-security prison he already broke out of. 
Mexico is also figuring out what to do with Sean Penn, whose interview with El Chapo may have helped the authorities track him down. The conversations he had during his visits in Mexico are currently being investigated. Senator Marco Rubio called the story "grotesque" this weekend and said, "Sean Penn is not someone I spend a lot of time thinking about. I didn't even know he was still around. I think he made movies a long time ago or something."