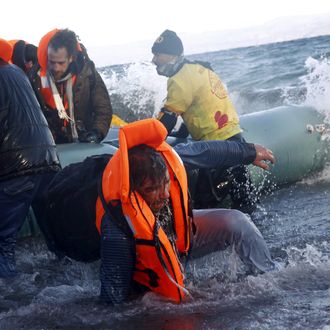 A refugee tries to stand up after falling into the sea as Syrian and Iraqi refugees arrive in a raft on a beach on the Greek island of Lesbos, January 1, 2016.
Photo: Giorgos Moutafis/Reuters/Corbis
In 2015, a record number of migrants and refugees — more than a million — tried to travel to Europe to escape war or economic hardship. A new year has started, and fewer are braving the journey as temperatures have dropped. Many are still coming, however, and as unsafely as ever. 
On Tuesday, 34 migrants washed up on the coast in Turkey. At least seven of them were children. Twelve others were rescued, and authorities are still searching for survivors. More than 3,700 migrants died trying to reach Europe last year.
"This is a crime against humanity," said the governor of the district where the bodies were found. "It is murder to send people out to sea like this."
This weekend, a 2-year-old refugee died when a boat carrying 40 people crashed into a rock near Greece; he was the first recorded refugee casualty of the new year. The other 39 refugees were rescued, according to The Guardian. In Lesbos, life jackets abandoned by refugees have piled up; volunteers with Greenpeace and Doctors Without Borders recently turned 3,000 of them into a giant orange peace sign.
Meanwhile, Europe is still trying to figure out how to deal with the refugees that safely make it to its borders. Traffic jams have snarled Sweden after new identity checks were put into place last weekend. Anyone traveling from Germany or Denmark will now need to show their ID at the border. The new policy — similar to ones in five other nearby countries — had German foreign ministry spokesperson Martin Schaefer arguing that the "Schengen [area] is very important but it is in danger." In the 26 countries that make up the Schengen area, you can travel among them without a passport, but worries about refugees and terrorism have complicated this policy. Anna Carlstedt, president of the Swedish Red Cross, told The Guardian that "it is starting to smell like the 1930s."
The Guardian added in a later article that EU countries have only resettled .17 percent of the refugees they promised to earlier in 2015.
As the Los Angeles Times notes,
The focus has now shifted to finding ways to discourage the migrants from embarking on the dangerous journey to Europe — and to ensure that those who reach Europe are systematically registered and vetted. EU leaders promised in November to give Turkey more than $3.2 billion in return for help stemming the flow. But at their last summit of the year in December, the leaders failed to take action on another proposal, by the bloc's executive arm, to set up a new border and coast guard service to bolster security at entry points.
In other words, these policies won't be discouraging migrants from traveling north any time soon. The other long-term option for stemming the tide of refugees is giving them a reason to stay in Syria by expediting an end to the conflict there. Peace talks were supposed to resume later this month, but the feud between Saudi Arabia and Iran could muck them up considerably. One analyst told the AFP that the fight between the two countries "will further diminish already low expectations."
So that looks less than promising, too. Are there any other ways to help prevent dozens of refugees from dying at sea? Economists gathering at a conference in San Francisco this week said that there are no easy or obvious solutions — and that what countries are haphazardly trying right now definitely won't work. "Making life miserable for asylum applicants is not really going to do very much to stop them coming," professor Timothy J. Hatton at the University of Essex said, per The Wall Street Journal. "It's not a deterrent, so let's put more effort into and resources into refugee welfare and to integration policies for those that are accepted. And, in fact, many countries have been doing that for the last 10, 15 years."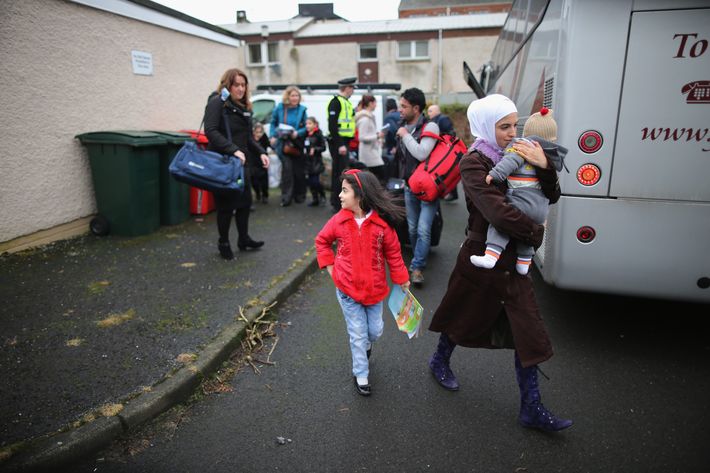 A bigger controversy over Germany's policy toward refugees is erupting after around 1,000 men attacked women in Cologne on New Year's Eve. The assaults appeared to have been organized, and officers described the men as looking "North African or Arabic."
According to the New York Times, Chancellor Angela Merkel released a statement saying, "Everything must be done to investigate as completely and quickly as possible those who are guilty and to punish them regardless of how they look, where they come from or what their background is." Many politicians who have been skeptical about Merkel's policies toward migrants have criticized her even more after news of this incident started to spread.
At least 90 women reported that they had been assaulted; one woman said she had been raped. It is not clear who the attackers were — or if they entered Germany with the wave of refugees, but that hasn't stopped people in Germany from getting increasingly worried about how the country will treat refugees this year. Many politicians said that the media, law enforcement, or German leaders seemed to be trying to cover up the attacks. One prominent right-wing politician tweeted, "Mrs Merkel, is Germany 'colorful and cosmopolitan' enough for you after the wave of crimes and sexual attacks?"
Several countries are trying to integrate refugees successfully. (They are also dealing with far fewer refugees than most of Europe.) One family that arrived in Canada at the end of last year told the Windsor Star, "I'm so happy to be here." One of his children added, "Everything is more beautiful here." As Mashable points out, nearly one in four of those million migrants that fled to Europe last year was just a kid. In British Columbia, officials are trying to figure out how they'll get the new refugee students — many who can't speak English — into schools. Canada intends to resettle 25,000 migrants in the upcoming months.
Marketplace spoke to a few refugees now living in northern England. Some seemed optimistic about their new life — "I like the British people." Others were less enthused — "The weather here is horrible!" The Financial Times recently reported on how hard it was for refugees to find a job in Germany, the country that was originally most welcoming to them. One local official noted that "It was different in the 1960s, with the Turkish immigrants. We had a different kind of industry, and a lot of simple work on assembly lines. We don't have those jobs any more." The governor of Bavaria — the entry point for many refugees trying to get to Germany — said earlier this week that the country should welcome no more than 200,000 refugees this year, far fewer than the nearly million that arrived in 2015.
In the U.S., opinions on the refugee crisis are as polarized as in much of Europe, despite the fact that 10,000 refugees is far less imposing than a million. A Quinnipiac University poll from last month showed that 51 percent of Americans support banning Syrian refugees from the U.S. In Georgia, Governor Nathan Deal withdrew his order barring Syrian refugees from the state this week after the state attorney general told him that he couldn't institute such a ban. However, some people are still being welcoming. The director of Catholic Charities in Hartford, Connecticut, told the Hartford Courant that "There's been overwhelming support recently from churches, mosques, individuals, people calling saying, 'We want to help with the Syrians.'"
The presidential candidates continue to talk about the refugees, too, particularly Donald Trump. He told voters in Iowa last week that the stream of refugees arriving in the U.S. will "never stop. And then one day we may have a small army in here. Or a big army in here. … I mean it's, like, genius. It's one of the greatest military strategies I've ever heard of. It truly is. It's going to make the old Trojan horse, like, that's peanuts compared to what they did to our country."
This post has been updated throughout.