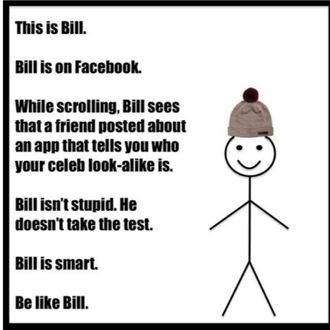 "Be Like Bill," the moralizing stick-figure template onto which anyone can cast their particular social mores and behavioral pet peeves, was the first real meme of the year. And, when the year ends, it will probably be remembered as the worst. But the only thing more annoying than Bill is the backlash against him. Today, seemingly every local news station in the U.S. is Facebooking the same story on how "Be Like Bill" could be stealing your personal information.
True: The business model of some viral meme generators is probably to collect your personal information from Facebook and sell it, or to covertly gain access your Facebook account so they can use it to post spam. Also true: You should be careful about using sketchy web apps you've never heard of, and consider reading the fine print. Fine advice, local news. Thank you.
But when it comes to the Be Like Bill generator, on a site called Blobla.com — which our newsreader intentionally struggles to pronounce, emphasizing how absurd the site's name is — the boilerplate local news stories don't provide hard evidence that there's any data mining going on. They point to some sketchy terms of service Blobla used to have, then tells us they're no longer in effect. The terms now promise the site does not collect your Facebook data when you share. Hmm.
As far as the information you're providing to make your own Be Like Bill picture, it's just a name (which can be made up) and a gender (likewise), plus a standard Facebook share button that puts the finished result on your timeline. The popular browser extension Ghostery, which blocks adware and trackers running invisibly on websites, only found a couple on the Be Like Bill page: They're for Google ads and Facebook Connect.  
It seems like the big scam is to show you ads, and to have you share content so that more people will see those ads. It's the same big scam you may remember from how basically every website makes money.
Should you post Be Like Bill? No. It is bad and asinine, and even one item of fake personal data is too high a price to pay for it. Is Be Like Bill a virus? Unless you mean "virus" in the sense that it is contagious, harmful, and spreading rapidly through the human population, probably not.
These news stations did more harm by milking a current viral craze for Facebook traffic and extending Be Like Bill's moment in the sun than they would have by ignoring it and letting it die on its own.
And if you're scrupulous about making sure companies don't collect and monetize your personal information, what are you doing on Facebook anyway?