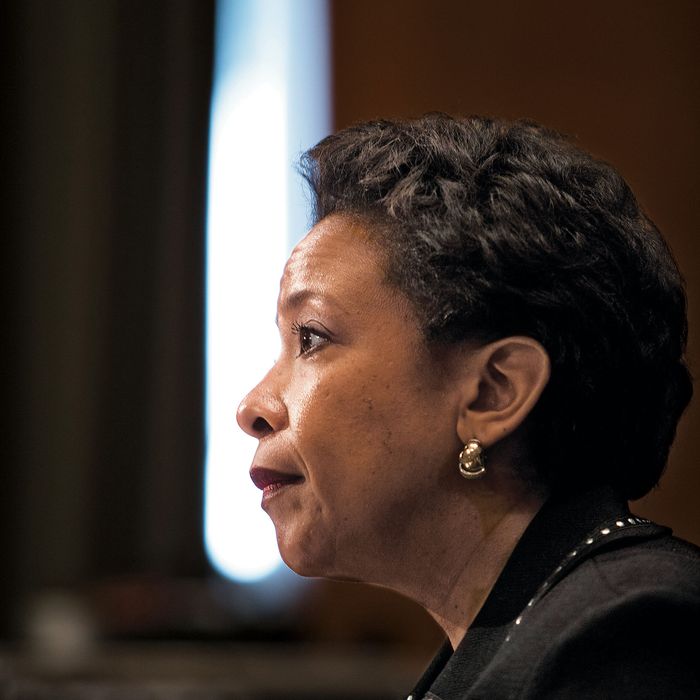 Photo: Doug Mills/The New York Times
On January 4 — before Obama announced he was forging ahead with gun-control measures despite opposition in Congress, before his tearful East Room speech and the town-hall meeting where he tried to convince the public that he was not trying to take away their guns — the president welcomed a handful of reporters into the Oval Office. In the wake of the San Bernardino shootings, he told the reporters, he had asked his top law-enforcement official, Attorney General Loretta Lynch, along with her deputies and White House personnel, to submit recommendations about what he could do to fight gun violence via executive action. He had since received the report, he said, and was prepared to act on the recommendations.
Lynch, who was seated directly to his right, said nothing while the cameras clicked. In the brief clip that ran on networks, the cameras zoomed in on the president's face, cutting her completely out of view. She appeared at the East Room event the next day, again off-camera. When the president conducted his live town hall later that week, she was absent. Staying out of the spotlight has been as much professional strategy as personality trait for Lynch, who may be the lowest-profile attorney general in recent memory. Over the course of a long career in the U.S. Attorney's office in the Eastern District of New York, she managed to ascend to the top law-enforcement position in America without arousing much attention or creating controversy.
But the Obama-Lynch tableau will almost certainly become more familiar in the days ahead, because the president's new gun-control proposals will be the greatest test of her short time in office. The crux of Obama's new policy is, for the most part, merely a clarification of current law: Gun sellers, or those "engaged in the business" of selling firearms, are required to run background checks—including online and gun-show sellers, who have previously claimed that they're exempt, and who have historically been left alone by law enforcement. Those who fail to run background checks are subject to prosecution. Which means that it's up to Lynch, and the Department of Justice, to prosecute the offenders.
If she does bring charges against negligent gun sellers, she will likely face a massive backlash. Already, Rand Paul is promising to fight the orders "tooth and nail"; House Speaker Paul Ryan is declaring that "the country will not stand for it"; Ted Cruz's presidential campaign is soliciting support using an image of the president looking vaguely like a member of the uniformed Waffen SS. On a conference call the night before Obama's announcement, Lynch told reporters that the new directive would "help individuals who do want to comply" while also putting "everyone else on notice that if they don't comply, there will be consequences."
Gun control is by no means the only issue for which Obama is relying on the legal maneuvering of the Department of Justice to safeguard his agenda. The White House's terrorism, national-­security, hate-speech, corporate-crime, civil-forfeiture, and refugee policies all flow through the office of the attorney general. In other words, with just a year left in his administration, no one will be more central to the president's political ambitions and legacy than Lynch.
When I asked Lynch in late December, in the Justice Department offices, beneath looming portraits of Eric Holder and ­Robert F. Kennedy and Janet Reno, how she could possibly manage all of her priorities in such a short time, she was characteristically measured: "These issues are not administration-specific. They themselves don't have a deadline or a timetable," she said. "My goal is to position the department where it will carry on in all of these issues long after myself and my team have moved on." When I later pressed her on the ­pressures of the job, she said more ­plaintively: "You take the job as you find it."
To the extent that most people think about attorneys general at all, it's usually as avatars of the most controversial policies of their presidents. Holder, beloved as he was by Democrats, was so hated by the right that he became the first sitting Cabinet member in U.S. history voted in contempt of Congress. Michael Mukasey will forever be remembered by Democrats as the guy who defended the legality of waterboarding for the Bush administration. Alberto Gonzales went down in flames over the politically motivated firing of nine U.S. Attorneys. John Ashcroft's legacy as champion of the Patriot Act still reliably turns up screaming protesters at his speaking engagements. Even Janet Reno, the consummate government bureaucrat, ended up as one of the right's top partisan punching bags during the Clinton administration, second perhaps only to Clinton himself.
Stylistically, Lynch is more Reno than Holder. It is impossible to imagine her, as Holder did, calling Americans a "nation of cowards," or saying that "we have failed" as a nation to address the mistrust between the police and the communities that they represent. "She's a very, very careful, circumspect person," says Steven Edwards, an attorney who worked with Lynch in private practice at the firm Hogan & Hartson and considers himself a fan. Edwards remembers interviewing Lynch for a local bar publication with a colleague of his a few years ago. "We went in thinking We're going to ask her the toughest ­questions we can come up with," he says, "and we couldn't lay a glove on her."
The dynamic was on display in her confirmation hearings last year, when Ted Cruz tried for ten minutes to lure her into saying something about the president's immigration policies that could later be used against Obama. Lynch, who graduated from Harvard Law School 11 years before Cruz, just leaned casually against the table, blinking slowly, like a cat, and spoke calm, deliberate, patient bureaucratese until the senator's time ran out. "The only negative thing I can say about her is that she's maybe too discreet," says Robert Raben, a former assistant attorney ­general, who later consulted on Lynch's confirmation hearings, "which is sort of high praise, when you think about it."
When Holder decided to step down in 2014, Lynch was in her second term as U.S. Attorney in the Eastern District of New York, an office that serves 8 million people in Brooklyn, Queens, Staten Island, and Long Island. "The larger U.S. Attorneys' offices are a microcosm of the Department of Justice," says Zachary Carter, who preceded Lynch's first term as the district's U.S. Attorney. "Just about every kind of case gets prosecuted out of that office, whether it's drug cases, crime, gang cases, fraud cases — it runs the gamut." During her time in New York, Lynch had earned a reputation for unflappable grace under pressure — "steel wrapped in velvet" is how Tony West, Holder's associate attorney general, puts it. "She just gives you, from the first time you speak to her, the impression that everything is going to be all right."
Lynch was stepping into a political atmosphere that required reassurance: Just months before she was nominated, the death of Michael Brown, the unarmed Ferguson, Missouri, teenager who had been shot by a police officer, had sparked an uprising in the city. When she was confirmed 166 days later, it was amid the unrest in Baltimore over Freddie Gray, who died after being taken into police ­custody. One of her first acts as attorney general was to announce a Department of Justice investigation into Gray's death, and she met with his family. She also did something that on the surface seemed ­uncontroversial, but actually encapsulated the tone she was trying to set: She thanked the Baltimore police. "I have watched the police of this city, and I know that there are difficulties," she said. "But to all of you who are on the front lines, I just want to say thank you."
What Lynch was signaling then, and later in the fall, when she went on a cross-country tour highlighting positive efforts of local law enforcement and communities to improve their relations, was that, while she was willing to assume the mantle of the civil-rights crusade that began in the Holder era, she would be doing it her way. "She had really big shoes to fill," says Matt Miller, who served as Holder's spokesman. "Lots of people loved Holder, and people on the other side of the aisle couldn't stand him, but he made a huge impact as ­attorney general. She took office in the wake of everything he'd done on ­criminal-justice reform and right away had to decide what mix she was going to pursue of his policies versus launching ones of her own," he adds. In the nine months since she was sworn in, she's done both, continuing the criminal-justice-reform efforts that began under Holder and prosecuting terrorism cases, but also expanding anti-human-­trafficking ­programs. "She's found her own style and her own imprint to put on the place," Miller says. "She's a different attorney general than Holder was — she has a much quieter and more behind-the-scenes style."
Not on everything, of course: Near the top of her list of priorities was white-collar crime, and a month after she took office, Lynch came forward to announce indictments against 14 top officials in a FIFA ­corruption case, a massively ambitious, wide-reaching international corruption takedown. A large part of the A.G. job is announcing and taking credit for the long, painstaking hours of work put in by staffers, sometimes on initiatives that began before the attorney general even took office, but the FIFA investigation was one Lynch personally spearheaded and worked on for years as U.S. Attorney, and on a global scale, it amounts to what Miller calls "one of the biggest cases the department has had for years and years." It also rocketed Lynch to international-celebrity status. Marvel Comics and ESPN ­illustrated Lynch as the "FIFA Slayer": a badass, broadsword-­wielding, soccer-ball-clutching superhero. This was a dramatic rise in notoriety, but Lynch is not overly impressed with her newfound star power. "We're very proud of the FIFA case," she says, before reverting to the reliable bureaucrat, "but I don't really think of it that much on a personal level."
Lynch says she views issues of racial justice, including the relationship between minority communities and the police, "as a societal issue that every generation really has to struggle with," and it is an outlook born of her own lived experience. She was born in Greensboro, North Carolina, to a librarian and a fourth-­generation Baptist preacher, in 1959. A year later, four students sat down at a Woolworth's counter in the North ­Carolina city and sparked civil-rights ­protests across the South. When Lynch was growing up, her father would welcome activists planning protests to his church, carrying his young daughter on his shoulders.
She faced plenty of discrimination, too: In elementary school, when she got a high score on a standardized test, school ­officials asked her to retake it. As the valedictorian of her high school, she had to share the honor with a white student because administrators feared she would face racist backlash. Lynch later attended Harvard, joining the cheerleading squad and becoming a founding member of the school's chapter of Delta Sigma Theta, a prominent black sorority.
After law school, while working in the Eastern District office, Lynch prosecuted several major cases. According to Lynch and her colleagues, the most formative experience of her career came when as a lawyer in the U.S. Attorney's office, she helped lead the prosecution team in the case against officers involved in the assault of Abner Louima, a Haitian immigrant living in New York, who in 1997 was arrested in East Flatbush. Once in custody, he was brutally beaten by police, culminating in a sexual assault with a broom handle in a police-station bathroom. It's one of the cases that came to define the late-'90s-era protests against police brutality in America. Though Lynch was technically his senior, she deputized Ken Thompson, now the Brooklyn district attorney, to give the opening statement. "It was a shock to me," says Thompson, who was then a junior prosecutor. "It was the biggest case any one of us had at that time, and most people would have wanted to deliver it, because it was such an important case to the city and the country. She was looking at the big picture." Thompson, she ­reasoned, would better represent the voice of Louima to the jury.
Lynch sees some of the cases she's working on now as A.G. as a continuation of the work she did in that case. "One of the things that was most striking about Louima that people don't focus on a lot is that we prosecuted that case with a team of FBI and police officers from the NYPD," she says. "We couldn't have made that case without the police and the police ­witnesses who came forward. [We] were talking to them about why is it important for them to be there and why is it important for them to tell what they saw." Lynch says what ultimately won that case was "the police officers who said, 'You know, I didn't become a police officer to support actions like this. I became a police officer to help people. If I'm not a police officer now, if I don't stand up for someone who's been injured now, then what am I in this job for?' "
What that taught her, and what guides her now, is a sense that often the people who seem to be on opposite sides of an issue aren't necessarily opposed. "Everybody wants to be able to call the police when you're in trouble. Everyone wants to feel that they have someone they can call to protect them. What I heard from a lot of people in a lot of communities in New York was, they didn't feel they had anybody to call. That's the real danger when you have a lack of trust between law enforcement and the community," she says.
Lynch's department is investigating the police departments in Chicago and Baltimore. In both cases, the pressure to deliver justice is enormous. Meanwhile, on both terrorism and gun-control issues, she's working to balance concerns about personal security and civil liberties. Her agenda would be ambitious even if it weren't coming amid what amounts to a national freak-out about public safety — whether the fear is directed toward guns, the police, terrorists, or the government itself. "I understand people are concerned. I understand that they're afraid. It's human to feel that fear and that concern. People want to be safe — I understand that—that's why I'm here. That's my job," she says. But as she's watching the country flip its collective gourd, she's concerned, she says, "that people, out of understandable fear and concern, are falling into this trap, are falling into a rhetoric and a dynamic that our enemies want us to have. I always resist that." In that way, Loretta Lynch is much like her boss: She refuses to freak out.
*This article appears in the January 11, 2016 issue of New York Magazine.