A picture taken on January 7, 2016 shows a makeshift memorial for the victims of Paris attacks at the Place de la Republique.
Photo: ERIC FEFERBERG/AFP/Getty Images
As Paris quietly remembered the 12 people who died during the Charlie Hebdo attacks exactly one year ago, police officers shot dead a man who approached a police station in the 18th Arrondissement with a fake suicide vest and, reportedly, a meat cleaver.
The attacker, killed shortly before noon, also carried, according to the police, a note bearing the ISIS flag and a claim of responsibility for whatever act he had sought to carry out, as well as a cell phone. He carried no identification.
The police shot him before he was able to enter the building.
Nearby schools are on lockdown, metro stations not too far away have been closed, and residents have been warned to stay inside. Those trying to enter the neighborhood were thoroughly searched, and the heightened police presence in the entire city is palpable. Police are investigating the attack's possible connection to a "terrorist undertaking." He appears to have worked alone, but police are investigating that, too.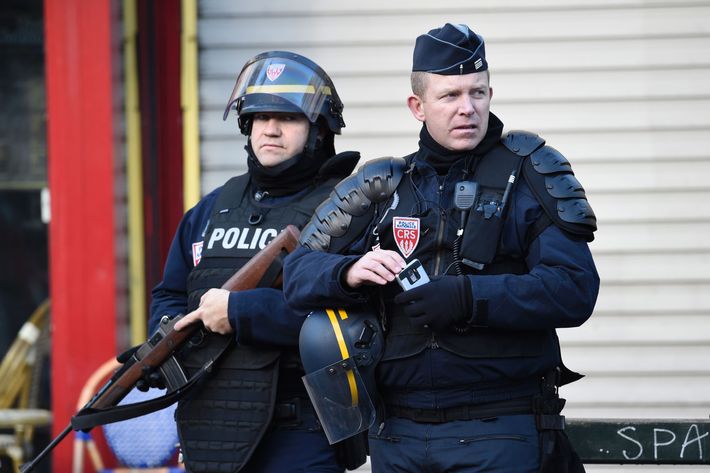 Witnesses heard the attacker yell, "Allahu Akbar."
According to The Guardian, "the man was found to have been wearing a pouch under his coat with a wire hanging from it, but the device 'contained no explosives.'" France24 adds that "Pictures posted on Twitter showed the alleged assailant wearing a camouflage coat, lying on the pavement after being shot. A police bomb disposal robot appeared to be inspecting the body."
Meanwhile, French president François Hollande was giving a speech on national security to police forces. He said that France would have to continue worrying about the threat of terrorism in the upcoming year — and it was thus essential that security personnel "work in perfect harmony."
Interior Ministry spokesperson Pierre-Henry Brandet later added, "The terrorist threat is real and it's very high. We must be constantly vigilant."
In Libya, a far deadlier attack took place on Thursday. More than 50 people, mostly police officers and recruits, were killed after a truck bomb exploded at a police training center in Zliten. At least 200 more were injured by the "massive" blast, many quite seriously. No group claimed responsibility for the attack, but lots of people are glancing toward ISIS, which has been wreaking havoc all over Libya and had been trying to inflitrate the region attacked on Thursday. Smugglers headed for Europe are also notorious for causing trouble in the area. Zliten's mayor told Reuters, "It was horrific, the explosion was so loud it was heard from miles away. All the victims were young, and all about to start their lives."