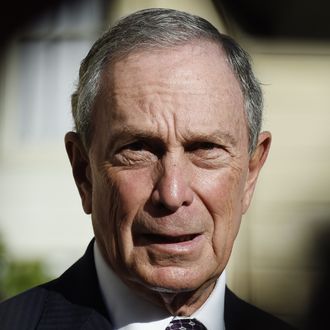 Ready to pick up the Mike?
Photo: Alain Jocard/AFP/Getty Images
Billionaire and former New York mayor Michael Bloomberg is considering running for president as an independent in this year's election, the New York Times and Associated Press are reporting, and would apparently be willing to invest a billion dollars in that effort, should a path to victory present itself. Unnamed sources told the Times and AP that the 73-year-old mayor, frustrated with the presidential race thus far, wants his advisers to draw up campaign plans and polling data in the event that the general election looks like it will become an "activist candidate" contest between Donald Trump or Ted Cruz and Bernie Sanders. The billionaire seems to believe that voters haven't yet gotten the  "nonideological, bipartisan, results-oriented vision" they want, and assuming that's true, he'd be ready to run as a "technocratic problem-solver and self-made businessman who understands the economy and who built a bipartisan administration in New York," according to the Times, and introduce himself via a series of wonky policy speeches and big-time ad buys. 
It is apparently also possible that he'd run against Hillary Clinton if she were nominated after having been significantly damaged by her primary campaign. Bloomberg, who has long maintained what has seemed to be a mutually respectful working relationship with Clinton, is apparently unimpressed with her campaign thus far, though sources tell the AP that it's unlikely he would challenge her in the general election. He will reportedly decide whether to proceed or not in early March. Bloomberg had seemed to flirt with independent presidential candidacies before in 2008 and 2012, but elected not to run in both cases after determining he had little chance of winning.