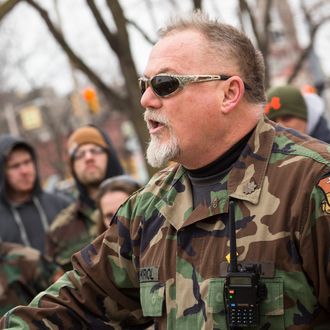 Don't tread on the Genesee County Volunteer Militia.
Photo: Brett Carlsen/Getty Images
Flint, Michigan, is seeing some high-profile support these days. Michael Moore and Reverend Jesse Jackson have held rallies in town. Jimmy Fallon, Mark Wahlberg, and Sean "Diddy" Combs have made huge water-bottle donations. Eminem, Wiz Khalifa, and Big Sean also make the list of donors. And now 30 camouflaged, open-carrying militiamen are there to help. 
In some ways, a big government screwup that leaves poor people in a lurch is the perfect cause for bringing together everyone from liberal activists to dudes so right-wing they see license plates as a form of tyranny. The Genesee County Volunteer Militia arrived outside of City Hall on Sunday afternoon bearing "Don't Tread on Me" signs. The militia, who have pledged their support for their buddies occupying an Oregon wildlife refuge, have been handing out water bottles for the Red Cross. "What happened here is a crime," Dave McKeller, a militia liaison who helped organize the rally, told the Detroit Free Press. 
Flint's water supply became contaminated back in early 2014 when the town began drawing from the Flint River. On Tuesday, the Michigan attorney general called it an "outrage" that residents are still being forced to pay for the poisonous water.
"We're not going to allow [the government] to step on the people of Flint any longer," the group's executive officer, Matthew Krol, said to a crowd outside of City Hall. He was dressed in full camouflage, with a gun at his hip."If it means having to take up arms in defense … we will do that as well."
In more recognizable news of militiamen behaving badly, on Monday a man on his way to join the occupiers of the wildlife reserve in Oregon threatened on-camera to kill police officers after being pulled over on suspicion of a DUI.