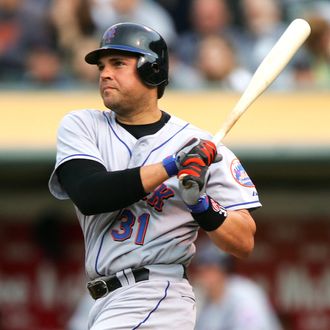 Mike Piazza looks like he'll be elected to the Hall of Fame tomorrow.
Photo: Jed Jacobsohn/Getty Images
Mike Piazza is the best-hitting catcher in baseball history, but he failed to be elected to the Hall of Fame in his first three times on the ballot. In part, voters have held Piazza's defensive shortcomings against him (though the argument can be made that while his throwing arm was terrible, he wasn't so bad in other areas behind the plate). Some voters, though, also have suspicions that Piazza may have used performance-enhancing drugs during his career. And so last year, Piazza was named on 69.9 percent of ballots — his highest total yet, but shy of the 75 percent required for election. But based on the 2016 ballots that have already been made public, Piazza's chances of getting elected when this year's Hall of Fame class is announced tomorrow are looking very good.
So far, Piazza has been named on 86.7 percent of the 166 ballots that have been revealed, according to Ryan Thibodaux's invaluable ballot tracker. Piazza appears to be benefiting not just from the usual tendency for borderline players to inch closer to the 75 percent threshold — on the tracker, he's picked up ten votes from writers who didn't vote for him last year — but also from the new voting pool, which is smaller and presumably younger. (In addition to being more inclined to consider advanced metrics, younger voters are believed to be less likely to blacklist even admitted PED users, let alone ones merely suspected or rumored to have used them.)
Last year, Piazza appeared on 75.1 percent of public ballots on Thibodaux's tracker, just barely over the threshold. But because he didn't fare as well in the nonpublic ones (just 62.1 percent), he didn't have enough support to earn a spot in the hall's class of 2015. This year, though, the early ballots look even better for the former Mets catcher, and when the voting results are revealed tomorrow afternoon, it's looking increasingly likely that Piazza will finally get his plaque in Cooperstown.