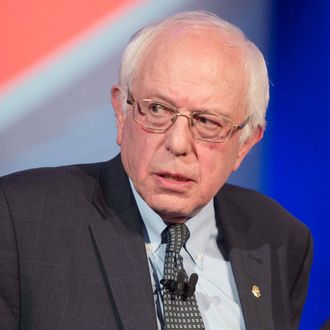 "If you play with fire, you're gonna get Berned."
Photo: Jim Watson/AFP/Getty Images
To go negative, or not to go negative — that is the question facing the Bernie Sanders campaign. With five days until Iowa gets caucusing, the Vermont senator is contemplating two very different paths to victory. Down one road, America's friendly neighborhood socialist would stick to the issues and nostalgic folk rock on which his political revolution and favorability numbers were built. Down the other, the progressive gadfly would make sure every liberal in the Hawkeye State knows exactly how much money Hillary Clinton has received from Goldman Sachs.
On Wednesday night, Sanders advisers met to choose between two different closing ads, one positive, one negative, the New York Times reports. Despite all of the rancorous Twitter exchanges between "BernieBros" and "HillaryMen," the 2016 Democratic primary has been an unusually friendly affair, in no small part because of Sanders's commitment to "issue-based" campaigning. But as many pundits have argued, sticking to policy positions is fine for a protest candidate who aspires only to expand the terms of his party's debate, but to actually take down a front-runner you generally need to taint their image.
Bernie Sanders ain't Karl Rove — the "negative" ad his campaign is contemplating would still be fairly substantive: nothing on Vince Foster, Benghazi, or even those "damn emails," just a more aggressive attack on Clinton's credibility as a Wall Street reformer.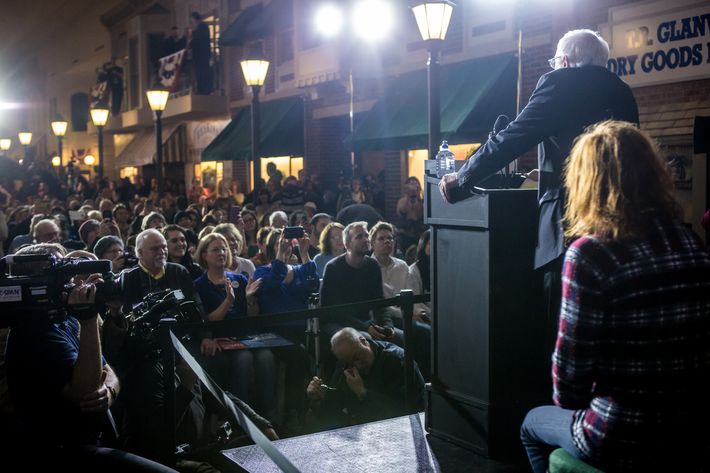 Sanders gave supporters a taste of that medicine Wednesday night, telling supporters at a rally in Mason City, "My opponent is not in Iowa tonight. She is raising money from a Philadelphia investment firm." Clinton was in fact in the Keystone State, raising campaign funds with the help of Franklin Square Capital Partners and Jon Bon Jovi.
The Vermont senator also displayed a newfound aggressiveness in his handling of next week's as-yet-unsanctioned New Hampshire debate. After MSNBC and the New Hampshire Union Leader arranged a debate for early next week, the Clinton campaign put significant pressure on Sanders to join the event. But after months of pushing for more debates, Sanders appeared irked by Clinton's sudden appetite for a clash of ideas — in the one state where he is the clear front-runner.
"Sen. Sanders is happy to have more debates but we are not going to schedule them on an ad hoc basis at the whim of the Clinton campaign," Sanders's campaign manager, Jeff Weaver, said in a Wednesday night statement. "If Secretary Clinton wants more debates that's great. We propose three additional debates. One in March, April and May and none on a Friday, Saturday or holiday weekend. And all of the three Democratic candidates must be invited. If the Clinton campaign will commit to this schedule, we would ask the DNC to arrange a debate in New Hampshire on Feb. 4."
According to the Times, Sanders has yet to decide which ad to run in Iowa's final days. But his campaign's increasingly confrontational tone, and clear appetite for victory, suggest Iowans will be hearing less Simon & Garfunkel and more about Clinton's fat-cat donors this weekend.
"We want to win," Sanders told the paper Tuesday night. "We think Iowa has a historical role to play in making it clear that the American people want to move this country in a very different direction, away from establishment politics and establishment economics. And that's what we hope will happen."