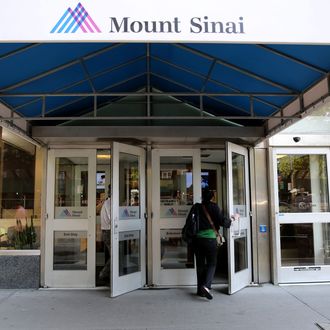 Dr. David Newman has been barred from seeing patients at Mount Sinai.
Photo: Andrew Gombert/epa/Corbis
Dr. David Newman, an emergency-room doctor at Mount Sinai Hospital, appeared in court Tuesday night to face accusations of sexually abusing two of his patients. Last Thursday the Daily News reported that Newman had sexually assaulted a 29-year-old patient who came to the ER complaining of shoulder pain. Since those reports were released, a second woman has come forward, saying Newman subjected her to similar treatment. 
The first patient to come forward said she visited Mount Sinai January 11; when she arrived nurses gave her pain pills and a morphine shot before leading her to an examination room. When Newman arrived, he reportedly gave her a second shot of morphine, incapacitating her. A police source told the Times the woman felt Newman fondle her breasts and ejaculate on her body. She was later roused by a nurse and another physician, went to the hospital bathroom, and stored her hospital gown and bedding in a plastic bag to preserve the evidence.
The second woman, 22, said she'd gone to the emergency room with a cold around 6 p.m. on September 21. According to a criminal complaint, Newman groped her as well.
In a statement, Mount Sinai said that Newman has been "suspended pending the outcome of the investigation," and that the hospital will "cooperate fully with the appropriate authorities" to see the case resolved. It went on: "We take the nature of these allegations very seriously and continue to conduct our own extensive internal inquiry."
Newman has, in the past, been a vocal proponent of trusting doctor-patient relationships. In 2008 he published a book called Hippocrates' Shadow: Secrets From the House of Medicine aimed at "rebuilding the bridge between physicians and their patients." He's being held on $50,000 cash bail or $150,000 bond.