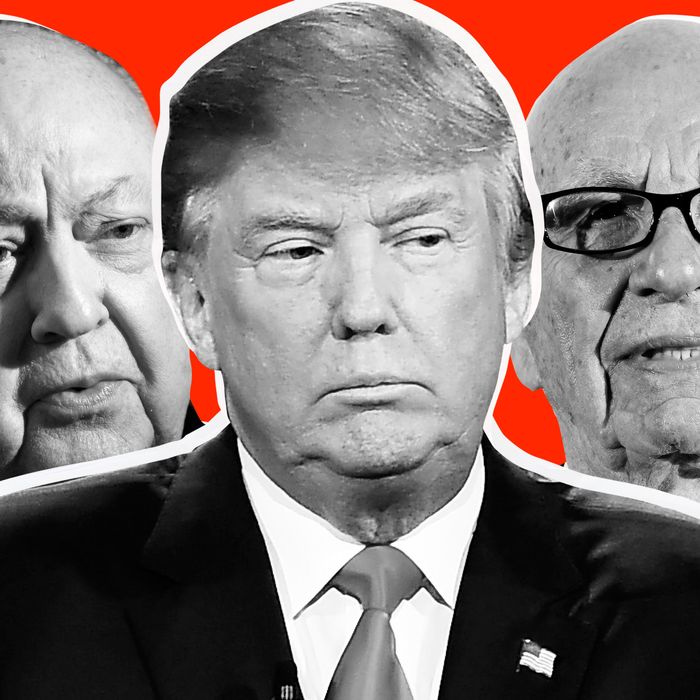 As Fox News and Donald Trump barrel toward their competing events tonight, Rupert Murdoch and his two sons, Lachlan and James, are making sure people know that this crisis is on Roger Ailes. "Rupert is letting Roger handle this," a source close to Murdoch said earlier on Thursday. Murdoch, according to another source close to the company, is "really upset about this." 
What this means is that, at least publicly, the Murdochs seem to want to isolate the PR nightmare to Ailes and Fox. The surreal spectacle of Fox's feud with the GOP front-runner is becoming a test of Ailes's management abilities at a moment when Fox executives and anchors have noted the Fox chief's diminished presence at the network. A 21st Century Fox spokesperson did not respond for comment when I asked how Murdoch feels about Ailes's management of the crisis.
Inside Fox, Ailes's handling of the Trump battle has left some senior executives questioning his judgment. According to one person briefed on internal conversations, Fox's executive vice-president of news, Michael Clemente, told people it was a bad idea for Ailes to send out the sarcastic statement accusing Trump of being scared of "ayatollahs" and "Putin." Ailes acknowledges that it was a misstep. "He realizes it was a mistake," a Fox executive said. Other executives have been worried that Ailes is relying on his personal lawyer, Peter Johnson Jr., who offers commentary on Fox & Friends, for strategic PR advice. This morning, senior executives including Clemente and senior VPs Suzanne Scott and Jay Wallace held emergency discussions after Trump retweeted a supporter who had posted a racy photo shoot of Kelly along with the caption "Criticizes Trump for objectifying women…poses like this for GQ Magazine." 
Ailes, according to the source, seemed unsure how to respond. "He's really upset and doesn't know what to do," the source said. "They see those pictures as a big wound to Megyn. They're putting it out there that she's this serious journalist, and then she poses like that. Can you imagine a picture of Maureen Dowd doing that? Maureen knows not to do that."
Meanwhile, as Ailes battles Trump, he's also facing insurgent attacks from the far right. Fox's standing on the right has been a focus for Ailes because he built the network for conservatives. When Trump's feud with Kelly first broke out in August, Ailes called Breitbart News executive chairman Stephen Bannon and lobbied Bannon to keep Ailes's name off Breitbart. That effort has failed. This morning, Breitbart ran a series of anti-Ailes headlines ("How Trump Beat Roger Ailes at His Own Game," "Pride Goeth Before the Fall: Ailes Calls Trump's Wife and Daughter," "Roger Ailes Put Megyn Kelly's Interest Ahead of the Country's").
For Ailes, the next 24 hours will be critical. He has to first get his moderators through the debate and produce a compelling show without Trump. Then he has to wage a PR campaign to position the ratings, whatever they may be. The worst-case scenario, of course, is that Trump's town hall surpasses Fox in viewers and buzz — an outcome most consider a long shot. But even if Fox beats Trump, Trump could score points if Fox's audience is significantly smaller without him on the stage. 
Fox spokesperson Irena Briganti did not respond for comment.