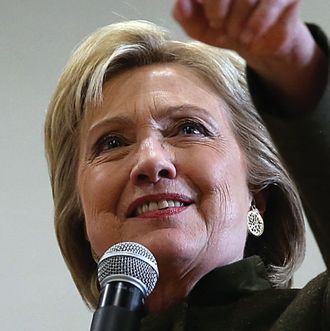 An unlikely matchup.
Photo: Justin Sullivan/Darren McCollester/Getty Images
With the Iowa caucuses just days away, the editors of the New York Times have announced their endorsements for the Democratic and Republican nominations for president. Selecting Hillary Clinton on the Democratic side, the paper calls her "one of the most broadly and deeply qualified presidential candidates in modern history" and praises her "steeliness" as an asset that would be valuable in this hyper-partisan era in American politics. In dismissing Clinton's main rival, Bernie Sanders, the paper says the senator does not have the same "breadth of experience or policy ideas" as Clinton.
Selecting Ohio governor and "distinct underdog" John Kasich on the Republican side, the Times spends most of the editorial complaining about the rest of the GOP field, especially front-runners Donald Trump and Ted Cruz. They then call Kasich "the only plausible choice for Republicans tired of the extremism and inexperience on display in this race." Acknowledging the former congressman is no moderate either, the paper nonetheless praises Kasich's move to expand Medicaid coverage in Ohio and points out that he "has been capable of compromise and believes in the ability of government to improve lives. He favors a path to citizenship for undocumented immigrants, and he speaks of government's duty to protect the poor, the mentally ill and others 'in the shadows.'" The RealClearPolitics poll aggregator currently puts Kasich in second place in New Hampshire with 13.2 percent support, while his Iowa and national numbers rank a dismal 2.8 and 2.4 percent, respectively.