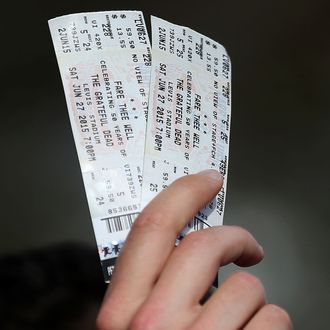 Sold out.
Photo: Justin Sullivan/Getty Images
You're sitting at your computer at 7:59 a.m. Tickets for U2 at Madison Square Garden are about to go on sale. At 8:01, you refresh your page … and they are sold out. You check StubHub (the ticket-resale site), and there they all are, their prices marked way up. It's not that 1,000 U2 fans bought their tickets in the past minute and decided to scalp 'em. The robots did it, and Eric Schneiderman has entered into battle with their human overlords.
Schneiderman, the attorney general of New York State, released a report on Wednesday calling the online ticket market a "fixed game." People and bots in this industry, he says, "break our laws, prey on ordinary consumers, and deny New Yorkers affordable access to the concerts and sporting events they love." He's looking to go after these electronic ticket buyers — but, so far, the brokers behind the bots have proven elusive. "Although NYAG has taken steps to stop many of the largest operations from using Bots to purchase tickets to events in New York," Schneiderman's report explains, "we recognize that other brokers may take their place. A longer-term solution must include improvements in Bot detection and prevention methods."
Automated bots — which are prohibited in New York State — use multiple IP addresses to get around sites' standard four-tickets-per-customer rules. Once they scoop up tickets, they resell them for high prices on third-party sites. In 2014, a bot grabbed 1,012 U2 tickets to the Garden in the first minute they were available; more than 15,000 tickets were bought by two bots that day, and some that had been sold for $350 were resold for $1,249. In 2013, another automated purchaser obtained 520 tickets to a Beyoncé concert at the Barclays Center in 2013 in three minutes. The report also shows that bots have been able to buy more than 90 percent of the best seats to any given show. They also employ human assistants, in the form of "armies of human typers in foreign countries to bypass CAPTCHAs," and acquire thousands of credit cards with dummy names.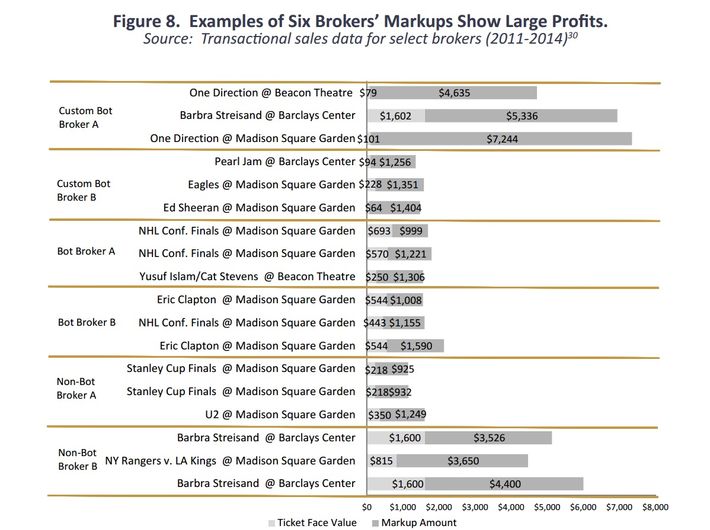 Schneiderman's report also talks about more straightforward scalping businesses run by licensed ticket brokers, which are legal but loathsome — the resale of a single One Direction ticket recently sent the cost from $101 to $7,244 — and about ticket "holds" for industry insiders, as well as presales for club members and credit-card holders. A LiveNation/AEG analysis, referenced in the AG's report, showed that, on average, less than half of all seats for major events are ever made available to the general public. A Coldplay–and–Jay Z concert at Barclays in 2012 reserved 70 percent of its seats for presale club members. At Justin Bieber's MSG show in 2012, almost 30 percent of tickets were held back for industry insiders.
As he begins his push to shut down the bots, Schneiderman is urging platforms like StubHub and TicketsNow to demand that their users obey the law. He wants to make it easier for vendors to display the face value of the tickets they sell. And he proposes revoking the "paperless ticket ban" to make a purchase harder to transfer, and to require concertgoers to bring the purchasing credit card to pick up their tickets.