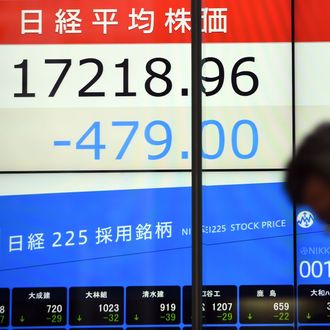 More where that came from?
Photo: Toshifumi Kitamura/AFP/Getty Images
Western stocks will fall by 20 percent. Oil will trade at $16 a barrel. Emerging markets will crumble as China assumes the role of Lehman Brothers in the not so eagerly awaited sequel to the 2008 financial crisis.
That preview of the next 12 months is brought to you by the Royal Bank of Scotland.
"Sell everything except for high-quality bonds," RBS credit chief Andrew Roberts writes in a note to investors that reads like the voice-over in a trailer of a finance-themed horror film. "This is about return of capital, not return on capital. In a crowded hall, exit doors are small."
Roberts said that all of the red flags the bank has been monitoring — collapsing oil prices, volatility in China, rising debt, deflation, and weak corporate loans — have made their presence felt in the very first week of trading. The FTSE is already down 5 percent, its worst start since 2000, while the Dow Jones industrial average has never opened a year this poorly.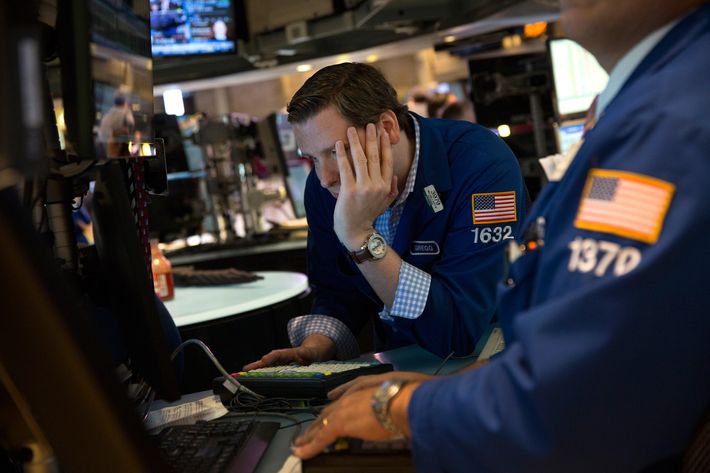 In his note, Roberts likened the current situation to 2008, except this time China would be the crisis point, instead of Lehman Brothers. In 2008, the relative strength of China and emerging markets mitigated the worst effects of the financial crisis — according to Roberts, this time around, they will be no such help. 
"China has set off a major correction and it is going to snowball," he writes. "Equities and credit have become very dangerous, and we have hardly even begun to retrace the 'Goldilocks love-in' of the last two years."
The bank goes on to criticize the Federal Reserve for raising rates at such a precarious time for global markets. With central banks ending their post-2008 stimulus measures, and falling demand dragging down global commodity prices, RBS expects the European and U.S. markets to fall between 10 and 20 percent by year's end.
And the Scottish bank isn't the only big bear in today's market. J.P. Morgan has advised its clients to sell stocks at the next bounce, while Standard Chartered predicts that oil may soon fall to as low as $10 a barrel.
Maybe Dinesh D'Souza was right.