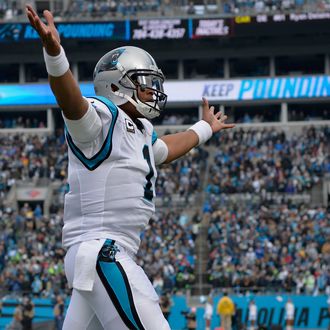 Cam Newton and the Panthers will play for the NFC title next weekend.
Photo: Grant Halverson/2016 Getty Images
The divisional round of the NFL playoffs is in the books, and though Sunday's games didn't include anything as wild as the Arizona–Green Bay game from the previous night, the matchups for next weekend's conference title games are set. With a 31–24 victory over the Seahawks, the Panthers advanced to the NFC Championship Game, where they'll host the Cardinals. On the AFC side of the bracket, Peyton Manning and the Broncos topped the Steelers, and will play Tom Brady and the Patriots for their conference's berth in Super Bowl 50.
The Panthers jumped out to a 31–0 lead in Sunday's first game, but allowed the Seahawks to creep back in the second half. With 1:12 to go in the fourth quarter, a Steven Hauschka field goal brought Seattle to within a score of tying the game, but Carolina retrieved the on-side kick to seal the victory. Jonathan Stewart rushed for 106 yards and two touchdowns in the victory, while Cam Newton threw for 161 yards and a touchdown on 16–22 passing. Seattle quarterback Russell Wilson threw for 366 yards and three touchdowns on the afternoon, but threw two interceptions and was sacked five times.
In the late-afternoon game between Denver and Pittsburgh, the kickers determined much of the scoring through three quarters, combining for six field goals in a game the Steelers led 13–12 heading into the fourth. But with 9:52 to go in regulation, Denver recovered a Pittsburgh fumble, giving the ball to Manning's offense with a chance to take the lead. Thirteen plays and and some seven minutes later Denver did, with C.J. Anderson's rushing touchdown capping a 65-yard drive. A two-point conversion gave Denver 14 unanswered points and a 20–13 lead. After Pittsburgh turned the ball over on downs, the teams traded field goals, but Denver emerged with a 23–16 win to set up another rematch between Manning and Brady in next weekend's AFC title game.