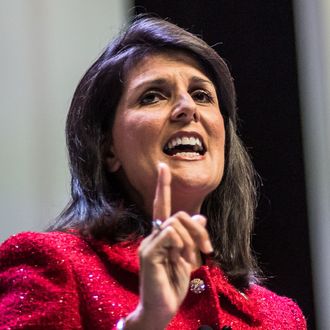 Hard to tell if the South Carolina governor will be a one-hit wonder, or a vice presidential nominee.
Photo: Sean Rayford/Getty Images
Nikki Haley's all the rage today. Both Democrats and Republican Establishment types praised her State of the Union address response that drew more blood from Donald Trump than from Barack Obama. Yes, she got a grumpy (though not searing) response from the Donald, and a few drive-bys from Trump's nativist and Islamophobic fans, including the friendly folks at Breitbart. But Jeb Bush and Chris Christie both gave her attaboys, and Haley herself acknowledged that Paul Ryan and Mitch McConnell had vetted and approved her remarks in advance. She certainly did no harm to her veep prospects unless Trump is the nominee or Trump has a veto over the second spot on the ticket (not an implausible thought). And indeed, conservative opinion-leader Erick Erickson said she had become "the only logical choice for vice presidential nominee of the GOP" (it should be noted Erickson was an early supporter of Haley's 2010 Republican gubernatorial candidacy, back when she was mainly known as a hard-core, movement-conservative disciple of Mark Sanford).
Haley even got something of a public mash note from Rep. Steve King (R-IA), the famous nativist who said he'd overlook Haley's immigration policy heresies because "she's beautiful." 
It's also possible King, a big Ted Cruz backer, is hoping Haley might yet endorse his candidate before South Carolina's February 20 primary. And she did nothing to dash that hope in comments she made today, noting policy disagreements with Marco Rubio on immigration policy ("Marco Rubio believes in amnesty, and I don't") and with Jeb Bush on Common Core.
As it happens, Haley is 0-for-2 in recent presidential endorsements, having thumped the tubs for Mitt Romney (then the movement-conservative candidate, endorsed by Jim DeMint) in 2008, when he lost to John McCain in South Carolina, and in 2012, when he was routed by Newt Gingrich. Any candidate who so prizes her endorsement as to make veep promises should look at that record, and some of the issues on which she could still use some vetting.