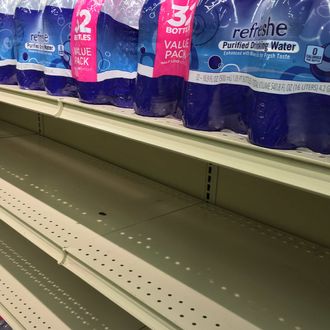 Zombie apocalypse, or preparations for a foot of snow?
Photo: JIM WATSON/AFP/Getty Images
It's official: New York City is now under a blizzard watch this weekend. 
It's going to be windy.
It's going to be snowy.
It could get messy — especially in cities farther south along the coast.
But, also, snow! 
Here's what we know so far.
Does this storm have a name?
Say hello to Winter Storm Jonas, the most terrifying of the Jonases. If you're asking whether it has a cool nickname that people are using to complain about it on Twitter, like Snowmaggedon or Snowghazi or Blizzardämmerung or Blizzard: Fury Road or Oscar Isaac, not yet. 
How much snow are we talking about here?
Depends where you are. If you're in New York this weekend, count on getting between six inches and a foot — enough to get the city excited about the fluffy whiteness coating the streets, but not enough to shut down the subway.
Who's going to get the most snow? 
It looks like Washington, D.C., will win this prize. The nation's capital could get anywhere from a foot to more than two feet of snow. If more than 28 inches of snow fall, it will be the city's biggest storm of all time. 
Oh, wow. That's awesome!
Yeah, but it's not clear how well the city will deal with all of it. Last night, D.C. got an inch of snow, and things got pretty hairy.
Define hairy. 
I think this headline from the Washington Post sums things up nicely. 

Even Obama had to deal with the awful driving conditions.
D.C. mayor Muriel Bowser apologized about how unprepared the city was on Wednesday.
Other cities seem to feel sorry for the nation's capital. Boston mayor Marty Walsh — currently in D.C. for the Conference of Mayors — said he was going to let the city borrow two of his city's new truck-mounted snow blowers, as long as Boston doesn't get hit by the storm, according to the AP.
Yikes. Okay, where else will there be snow?
This storm is set to wallop the entire East Coast. Philadelphia, coastal New Jersey, Long Island, and maybe even Boston could be dealing with snow this weekend. In Kentucky and North Carolina and other places farther south, things could get super icy, although there probably won't be much snow to deal with. However, it looks like the farther north you are along the coast, the less stressful your snow experience will be this weekend — at least that's how things appear right now. Maryland, Virginia, West Virginia, and D.C. are definitely the places to watch in this storm.
Maryland and Virginia have already declared states of emergency for this weekend.
Back to New York. You said blizzard. 
Yes, yes, I did. That means that the snowstorm could also make things very, very windy — which is a nightmare for power lines, especially if we're already dealing with snow accumulation. Tree branches heavy with snow and beaten by the wind might be liable to fall and cause additional problems. In D.C., residents have been warned that the power might go out and not be turned back on for days, given how difficult it might be for crews to move around.
Anything else to watch out for?
Places near the ocean might get some coastal flooding too. The conditions are perfect for it, per Slate — a full moon, super windy, and warmer-than-usual waters. If you're near D.C., you might get some thundersnow. And if the temperature warms up, expect everything to turn into an icy mess.
I'm not excited about this storm yet. Can you list some of the most exciting or terrifying words used to describe this storm in order to shock some emotion out of me?
— Monster
— Crippling   
— Pretty lengthy 
— Severe
— Mind-boggling
— Historic
— Very significant
— The storm shouldn't be taken lightly
Oh, dear lord. So I should rush out and buy enough stuff to keep me alive for months right now, yes?
If you're in D.C., it might be too late. Grocery shelves are looking pretty bare. But, really, don't freak out. It's not that much snow. As long as you don't plan a long road trip and are moderately smart about things — and download a few movies and make sure your flashlights have batteries in case the power goes out, you should be fine.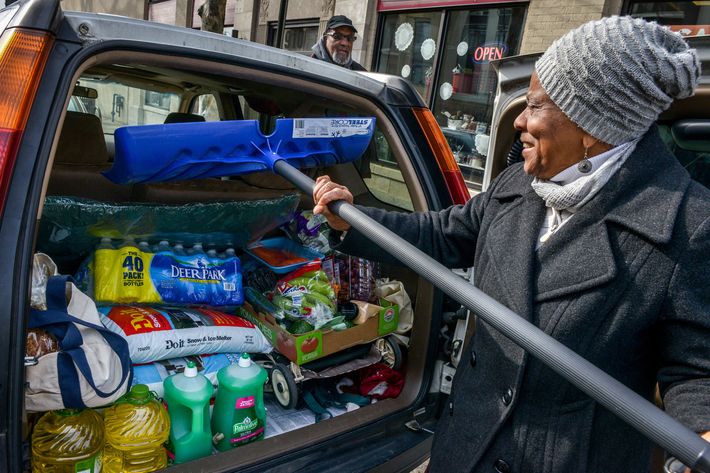 But I should maybe get a snow shovel?  
Again, if you're anywhere near D.C., it might be too late. CBS News talked to one person who tried several hardware stores, all of which were completely sold out of snow shovels and salt. "It's crazy there," he noted.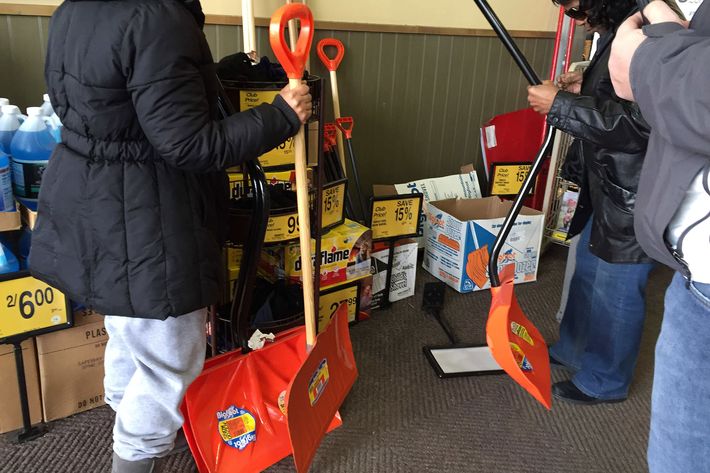 If anything, snowstorms teach us that our fellow humans can exhibit far scarier behavior than a mere weather event ever could. 
And should I avoid going outside?
Mayor Bill de Blasio announced a hazardous-travel warning for this weekend — though there are reportedly 1,650 plows and 300,000 tons of salt on hand, driving probably won't be very fun, thanks to potentially low visibility and maybe icy conditions. Use public transportation if you have to. Do you really want to be stuck in traffic during a storm?
If you see a homeless person who looks like they need help, call 911 or 311. 
I'm a visual learner. Can you show some maps of what the storm is supposed to look like?
Since the storm is still a day away, total snow amounts may change, but these should give you a good idea of what we're in for. 
And when is this all supposed to be over?
The skies should clear by Sunday afternoon, giving everyone half a day to coat their neighborhood with an entire civilization of snow people. 
I don't want to stay inside all weekend. Are there any fun snow-related things going on?
Central Park was supposed to hold its annual Winter Jam on Saturday, complete with skiing and snowshoeing. However, it has been canceled because of a fear there will be too much snow, because life makes no sense.
In D.C., the Washington D.C. Snowball Fight Association planned a big fight for Saturday, which might end up getting moved to Sunday — trying to throw snowballs when it is so windy that no one can see might not be the greatest idea. Whenever the fight takes place, it will be Star Wars–themed. 
Any other advice?
If you decide to go get an ice-cream cone while it is snowing and newspaper photographers happen to be nearby, you might end up on the front of the paper, which will either make your mom very proud or terrify her. 
Wearing animal masks while inclement weather stews is also a great way to become a local celebrity for an hour or two, if you get really bored this weekend.
And if you're worried that there is a chance you won't get enough snow this weekend, just follow this New Jersey's guy's lead and make your own.
This post has been updated.
Correction: The headline briefly said that New York had a blizzard warning — right now, it's just a blizzard watch, as it says in the text of the post.