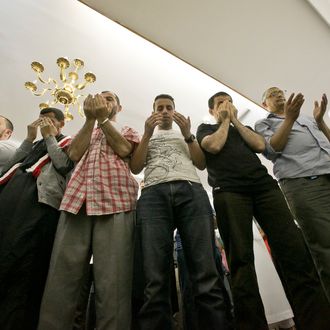 At a Bay Ridge mosque that the NYPD watched for years.
Photo: Bebeto Matthews/AP/Corbis
New York City, after settling two lawsuits regarding the surveillance of Muslims, is set to appoint a civilian attorney to review the NYPD's counterterrorism tactics. It's a restoration of oversight of the counterterrorism unit, which was cut back when the unit claimed it needed more flexibility after the September 11 attacks.
Under the agreement, the mayor, in consultation with the police commissioner, will select a civilian attorney to serve on the Handshu committee, a panel of counterterrorism officials that meets monthly to review terrorism cases. On Thursday NYPD Commissioner Bill Bratton objected to the term "monitor," saying he would not have agreed to that. "This person is not a monitor, is an appointee of the mayor, who will work on the Handshu Committee which is controlled by the police department," Bratton said. "So that person has no relationship to the federal monitors we interact with."
The settlement also establishes that the counterterrorism unit cannot launch investigations based on race, religion, or ethnicity. It will need "articulable and factual information regarding possible unlawful activity" before it can launch an investigation based on political or religious activities. Police officials said that this just formalizes changes that have already taken place. "We have nothing to hide," Lawrence Byrne, the police department's deputy commissioner of legal matters, told the New York Times. "And if this adds transparency and a level of public trust that we're continuing to keep the city safe, but in a lawful way, we welcome and embrace that."
However, the lawsuits, filed in 2013, and a series of AP stories show a different side of the department. By these accounts, NYPD officers have routinely monitored places where Muslims eat, pray, and hang out. They sent undercover photographers to follow people into mosques and student associations, taking pictures of people and license-plate numbers, and spent years watching people who weren't doing anything illegal. On Thursday, the department agreed to use undercover officers only after all other options had been exhausted, to cap the lengths of investigations, and to review open ones every six months.
The AP investigation also showed that the city had files on ethnic neighborhoods, watched Muslims who changed their names, and dispatched plainclothes policemen known as the "Demographics Unit" to eavesdrop on conversations and write daily reports. Police Chief Bill Bratton disbanded the Demographics Unit when he returned to his office in 2014.
"For the first time, this watershed settlement puts much-needed constraints on law enforcement's discriminatory and unjustified surveillance of Muslims," Hina Shamsi, the ACLU's National Security Project director, said in a statement. "At a time of rampant anti-Muslim hysteria and prejudice nationwide, this agreement with the country's largest police force sends a forceful message that bias-based policing is unlawful, harmful and unnecessary."
This post was edited to include Bratton's objection to the description of the civilian monitor.