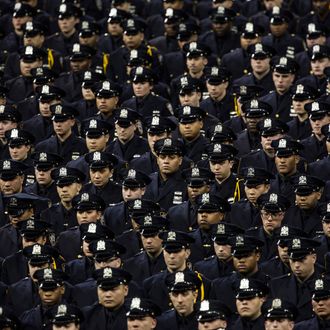 Photo: Andrew Burton/Getty Images
New York City's overall crime rate declined only slightly in 2015, but the number of crimes against police officers plunged, according to statistics updated by the NYPD on Monday.
There were 241 fewer assaults against cops last year than there were in 2014, an 18 percent drop. Incidents of resisting arrest fell by 21 percent.
In an interview with the New York Daily News, NYPD deputy commissioner for operations Dermot Shea credited the declines to the department's rejection of "the overly aggressive policing" pursued by former commissioner Ray Kelly.
Overall crime fell by 1.7 percent, but in several severe categories actually ticked up in 2015. The year saw a 4.5 percent increase in the city's murder rate and a 6 percent rise in the incidence of rape.
Some portion of the overall drop in crime may have more to do with declines of enforcement rather than offense. The NYPD made 11,000 fewer marijuana arrests in 2015 than the previous year, and it seems unlikely that ganja has suddenly lost its popularity. That drop, along with a 30 percent decline in all criminal court summonses, reflects the kinder, gentler style of Broken Windows policing championed by the de Blasio administration. By contrast, though, a 3 percent fall in reported shootings may reflect the department's stepped-up enforcement of firearms laws — in 2015, gun arrests rose by more than 10 percent.
Alternatively, all of these statistics could reflect nothing but the administration's desire to distort reality for political ends — if you agree with Ray Kelly's assertion on AM 970 last month. "I think you've got to … look at those numbers because I think there are some issues with the numbers that are being put out," the former commissioner told the station. "I think there's some redefinition going on as to what amounts to a shooting, that sort of thing."
In an interview with WCBS on Monday morning, Mayor de Blasio denied cooking his administration's not entirely flattering 2015 figures. "It's the exact same numbers, the exact same methodology being used under Bratton as was used under Kelly," de Blasio said.