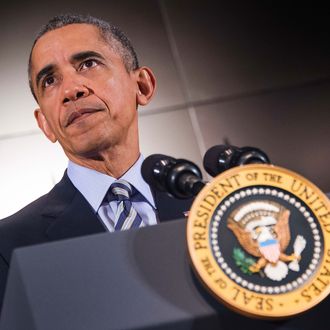 Obama is so over "hidden interest" politics.
Photo: Jim Watson/AFP/Getty Images
Earlier this month, after Congress repeatedly failed to pass new measures on gun control, Obama took things into his own hands, issuing an executive order that improved background checks and expanded access to mental-health care for anyone trying to purchase a gun. Now he's reportedly considering yet another executive order, this time to reform the way political campaigns are financed. According to the New York Times, the president's new order would require companies with federal contracts to publicly disclose their campaign donations. Although he's reportedly been contemplating the order for more than a year, discussion has "intensified in recent weeks" as he heads into his final year in office.
By fiat, the president hopes to curb "dark money" donations from huge corporations like ExxonMobil, Apple, General Motors, and General Electric, all of which have federal contracts. As of 2010, when the Supreme Court declined to limit corporate political spending, these and other companies can donate unlimited amounts of money to political action committees. Activists have advocated a check on these donations, but business groups say making donations public would violate their freedom of speech.
"The real goal of the disclosure proponents is to harass, intimidate and silence those with whom they disagree," Blair Latoff Holmes, a spokeswoman for the U.S. Chamber of Commerce, told the Times. "We continue to believe that one's political activities should play no role in whether or not you get or keep a federal contract." Notably, Holmes did not object to corporations using donations to get federal contracts in the first place.
In his State of the Union speech last week, President Obama appeared to double down on campaign finance reform, saying, "We have to reduce the influence of money in our politics so that a handful of families and hidden interests can't bankroll our elections." After the speech, Denis R. McDonough, the president's chief of staff, told reporters to expect "audacious executive action throughout the course of the year."
Obama's plan comes as a California businessman introduces a bill to force lawmakers to wear the logos of their biggest donors, the way NASCAR drivers do. While that's a potentially stylish idea, legal experts say such a measure might clash with the First Amendment.