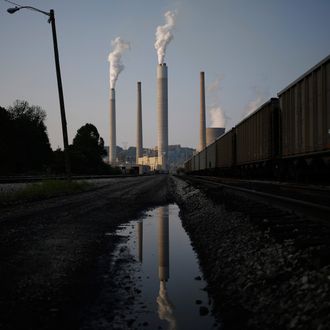 Photo: Luke Sharrett/Bloomberg via Getty Images
The courts will not block one of the Obama administration's most significant policies to combat climate change — for now. A federal appeals panel on Thursday rejected a request from 27 states and scores of industry groups to halt the implementation of new emissions limits on coal-fired power plants. But the panel set hearings on the broader legal challenge to those limits for this June, with the case's final resolution not expected until the Supreme Court weighs in sometime next year.
The disputed regulations would require each state to reduce carbon emissions for electric-power plants, the largest sources of such pollution in the country. Since coal-fired plants are the filthiest major power source, compliance with the rule would require states to shift much of their electricity generation from coal to natural gas or other alternatives. The Environmental Protection Agency expects the new rules to cut coal-based carbon emissions by as much as 30 percent by 2030, from 2005's peak levels. 
The sooty states and corporations challenging the new rule claim that the Clean Air Act does not give the EPA the authority to regulate greenhouse-gas emissions. Under President George W. Bush, the EPA itself shared this assessment. But in 2007, the Supreme Court ruled that the law gave the agency "unambiguous" authority to regulate any air pollutants that endanger public health or the environment. In 2009, the EPA issued an "endangerment finding" that laid the groundwork for the regulations announced last summer.
The merits of the new challenge will be decided by a three-judge panel in the D.C. circuit Court of Appeals. That panel will include two judges appointed by Democratic presidents, including Obama appointee Sri Srinivasan.
Obama's victory at the appeals court comes amid a flurry of new administrative actions regarding climate change. The Interior Department issued a moratorium on new leases for coal mining on public lands last week, as the agency drafts new (and almost certainly higher) rates and royalties for access to such lands. The department is also expected to propose new regulations targeting methane emissions from oil and gas drilling on public lands, the New York Times reports.