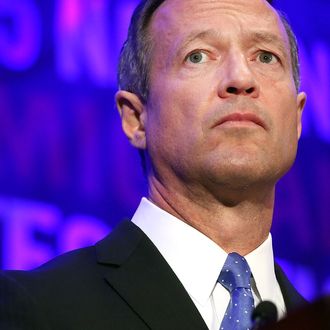 The eyes of a man who got a great deal on his ottomans
Photo: Spencer Platt/Getty Images
Former Maryland governor and Democratic presidential candidate Martin O'Malley is under investigation on account of some furniture he purchased from the Annapolis governor's mansion at the end of his term last January, the Baltimore Sun reports.
Wes Adams, the state's attorney in Maryland's Anne Arundel County, just south of Baltimore, is carrying out the investigation, which O'Malley campaign spokesperson Haley Morris called a "bogus political attack" in an email to the Sun.
Last August, the Sun reported that upon moving out of the governor's mansion in January, O'Malley had carried off "armoires, beds, chairs, desks, lamps, mirrors, ottomans, tables and other items" for which taxpayers had shelled out $62,000, but paid only $9,638 for them. The transaction violated state rules against selling state-owned property to government officials.
It soon emerged that the Maryland Department of General Services, which had designated the furniture "junk," had not charged O'Malley tax, which also violated state rules.
O'Malley's former chief of staff told the Sun at the time that proper procedure was followed, as the items had been formally declared "unserviceable" before O'Malley had asked to buy them. However, that entire process, which normally takes several days or weeks, appears to have been concluded on the same day the O'Malleys moved out.
Adams, a Republican, would not comment on the investigation but his spokesperson, Heather Epkins, denied that it was politically motivated.
"Our office performs due diligence on any complaint given to us," Epkins told the Sun. "We don't have the option of picking and choosing."
O'Malley, who is polling under 3 percent nationally, barely qualified for Sunday's Democratic debate. He'll likely struggle once again to get a word in edgewise — but hey, maybe someone will ask him about this furniture thing!