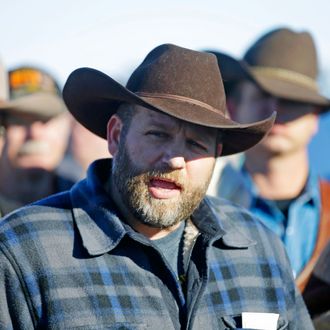 Ammon Bundy speaks at a news conference on January 8, 2016.
Photo: Rick Bowmer/Corbis
Eight members of the armed militant group occupying the Malheur National Wildlife Refuge in Oregon, including leaders Ammon and Ryan Bundy, are in custody following a confrontation with authorities on Tuesday. 
Arizona rancher Robert "LaVoy" Finicum, who acted as the group's spokesperson, was killed in the confrontation, and Ryan Bundy suffered a minor gunshot wound in the arm.
Earlier this month Finicum told NBC News he would rather die than be taken into custody. "There are things more important than your life, and freedom is one of them," he said.
On Wednesday afternoon, local law enforcement held a press conference on the incident. "This can't happen anymore," Harney County Sheriff David Ward told reporters, "This can't happen in America and it can't happen in Harney County." 
"But this has been tearing our community apart," he added earlier, when stressing that the authorities had hoped the occupation would have a "peaceful resolution." "It's time for everybody in this illegal occupation to move on. There doesn't have to be bloodshed in our community."
Few details were provided on the circumstances that led to Finicum's death; the situation is currently being investigated.
At around 4:25 p.m. local time Tuesday night — 25 days into the occupation of the refuge — the FBI and Oregon State Police began an "enforcement action" along U.S. 395. Shots were fired, but no law-enforcement personnel were injured. The militants have been allowed to travel freely between the compound and the town of Burns, which is about 30 miles away, since taking over the federal building on January 2. Those arrested were heading to a community meeting in the town of John Day on Tuesday evening.
According to The Oregonian, those remaining at the refuge have been told by the FBI that they are free to leave. A few have complied with the request, perhaps a bit spooked by the shooting. One militia member, a new acquisition to the cause from California, told a reporter that "The rest have decided they're going to hold their ground." 
Georgian Jason Patrick is the new de facto leader of the activists, per The Oregonian. He says the remaining members are unwilling to leave as long as those two local ranchers convicted of arson on public lands remain in prison.
Police have completely blocked off all roads leading to the refuge, setting up checkpoints that will only allow lawful landowning locals through — and making sure those inside can't get out, unless they're leaving for good. Those trying to get inside the refuge and join the cause will be arrested.
Authorities have only said that the suspect who was killed "was a subject of a federal probable cause arrest." Ammon Bundy told his still-at-the-compound wife, Lisa, who then spoke to Nevada state assemblywoman Michele Fiore, that the militants were cooperative. Fiore told the L.A. Times that Bundy reported Finicum was shot three times while he hand his hands in the air. "It's very unfortunate. The only saving grace is there's six witnesses to it," said Fiore, a Bundy family supporter. "My perspective is our government has acted lawless and we have got to stop it."
Mark McConnell, who was with the Bundys at the time of their arrest and later released, disputed this account in a video on Facebook. He said that Finicum "charged at law enforcement" and ended up getting shot — and that the stuff about Finicum being shot while his hands were up was "nonsense."
"Emotionally thinking," McConnell said, "it's not always the best."
The Washington Post reports that an "official familiar with the encounter said Finicum refused to surrender."
The L.A. Times also spoke with Cliven Bundy, the infamous Nevada rancher and father to Ammon and Ryan. "We believe that those federal people shouldn't even be there in that state, and be in that county and have anything to do with this issue," he said. "I have some sons and other people there trying to protect our rights and liberties and freedoms, and now we've got one killed, and all I can say is, he's sacrificed for a good purpose."
Authorities have yet to release details on the confrontation, but they have named the militants in custody. Brian Cavalier, Shawna Cox, and Ryan Waylen Payne were arrested with the Bundy brothers. A short time later, Joseph O'Shaughnessy and online radio-host Pete Santilli, who supported the occupation, were arrested separately in Burns. And Jon Eric Ritzheimer, who was featured in one of the group's most memorable online videos, turned himself in in Peoria, Arizona.
Finicum, a Mormon with 11 children and 19 grandchildren who lived on a ranch in northern Arizona, had said earlier in the occupation of the refuge that he wished the revolution would happen quickly so he could return to his cows. One of his daughters told NBC News that the militia hadn't been interested in pulling out guns unless they were being fired on.
"I think he's in a better place and he died defending what he believed in with his whole heart," another daughter, Arianna Brown, told The Oregonian. "I hope my dad didn't die for nothing. I hope my dad's death is the only death that has to happen, but I also hope that justice is put back in its right order. … I hope they don't give up when it gets hard. That's how freedoms are taken away."
All eight people taken into custody were charged with conspiracy to impede federal officers, which is a felony. 
Some of the militia's allies are apparently worried about what those trapped at the refuge might do next. The Pacific Patriots Network, Oath Keepers, and the Idaho III% sent out a statement, according to Reuters, saying that "cooler heads must prevail. We do not wish to inflame the current situation and will engage in open dialogue until all of the facts have been gathered."
Representative Greg Walden added in a statement, "Once again, I urge those who remain at the refuge to go home before anyone else gets hurt. And when this is done and the cameras' glare turns away from rural Oregon, the healing process will be a long one. Widespread frustration will continue until people in rural America feel like they are being heard and meaningful changes are made to federal land management policy."   
The warning may be necessary; another anti-government activist told Reuters, "It's all I can do to keep people from going and shooting feds right now." Gawker heard on a livestream one of the militia members inside the refuge say, "If they stop you from getting here, kill them!"
This post has been updated throughout.