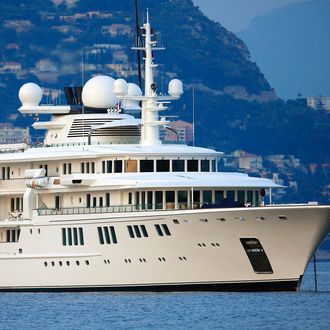 Boats behaving badly.
Photo: +Sanchez/Lenhof/Crystal Pictures/Corbis
The No. 1 rule when you are piloting a very large yacht, like Paul Allen's Tatoosh, is not to hit anything. Particularly a coral reef. Especially one that has, for 30 years, been designated an official Replenishment Zone by the local government. Oops.
MV Tatoosh, the 300-foot superyacht owned by the Microsoft co-founder and owner of the Seattle Seahawks and Portland Trail Blazers, destroyed 14,000 square feet of coral reef in the West Bay Replenishment Zone off the Cayman Islands, according to officials there. Technically, the boat didn't hit it; instead the yacht's anchor chain dragged out about 80 percent of the reef, reports Cayman News Service. (Allen was reportedly not on the yacht at the time.) Allen's investment firm, Vulcan, Inc. — which, awkwardly enough, is intended to back enterprises that are "committed to reducing environmental harm" — calls the damage report "exaggerated" and could face a fine of up to $600,000. Vulcan blames the local port authority for directing the yacht to that particular spot.
Tatoosh is the 49th-largest yacht in the world, according to BoatInternational.com, and has two helipads and a crew of 30. In December, a much larger ship, the Pullmantur cruise liner Zenith, wrecked another Grand Cayman reef — also protected, and located in a marine park — with its anchor chain.