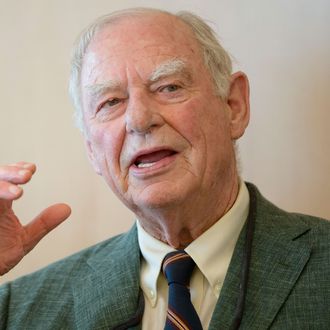 H.F. "Gerry" Lenfest is giving 'em away.
Photo: Matt Rourke/AP/Corbis
H.F."Gerry" Lenfest, philanthropist and owner of Philadelphia's three major news outlets — the Inquirer, the Philadelphia Daily News, and Philly.com — is donating the organizations to a nonprofit, Philly.com reported this morning. The donation, given to nonprofit Philadelphia Foundation, comes with a $20 million endowment — not enough to keep all three outlets going forever, but enough to hopefully get them started, especially since the news organizations have been struggling lately, and many of the solutions tried by other similar newspapers haven't proved to be magic fixes. Lenfest bought the outlets in 2014.
In November, the outlets' parent company, Philadelphia Media Network (PMN), announced it was laying off more than 40 staffers in order to cut costs — something this new plan is obviously trying to avoid in the future. PMN publisher and CEO Terry Egger told Philly.com, "It's a damned exciting day in our industry … This is a long view about the funding and future of journalism."