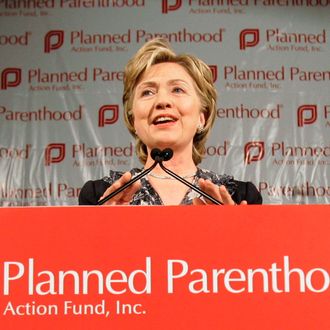 Photo: Jason Reed/Reuters/Corbis
Planned Parenthood has endorsed Hillary Clinton for president. Which would not be much of a surprise — except that the group has never before endorsed a presidential candidate in its century of existence.
The endorsement may be key to winning over female voters in swing states who, polls show, are significantly motivated by the issue of access to legal abortions. Republican lawmakers have repeatedly tried to cut off the group's federal funding, and have attempted to write its defunding into spending bills that, if not passed, would trigger a government shutdown.
Cecile Richards, Planned Parenthood's president, explained the organization's decision to go with Clinton thus: "Everything Planned Parenthood has believed in and fought for over the past 100 years is on the ballot."