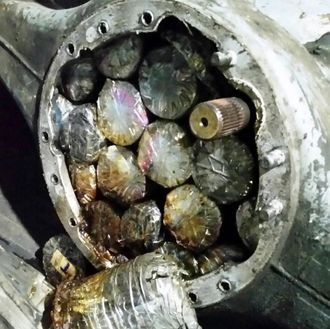 That's a lot of heroin.
Photo: NYPD
D-Money is at it again. On Wednesday, New York police announced they'd discovered 100 pounds of heroin — that's $14 million worth — when they pulled over a truck in Queens. The bust was the result of a Tuesday-night stakeout in Elmhurst in which members of the NYPD, the federal Drug Enforcement Administration, and New York state police were involved. A group of officers was poised near Northern Boulevard and 84th Street Tuesday night when two pickup trucks entered the area and circled several times. Officers pulled the trucks over at around 8:45 p.m., and a drug-sniffing dog identified narcotics in one of them.
Both drivers (33-year-old Peter Omar Garcia-Romero and 65-year-old Jose Guadencio Lantan-Vela) were arrested at the scene, and their trucks were taken to the Manhattan DEA's office. When officials searched the trucks, they found that these especially crafty drug smugglers had molded bags of heroin into cylinders to fit into the axle casings of the trucks and into little squares to fit into the driveshaft housing. Clever, but it's no carrot heist.