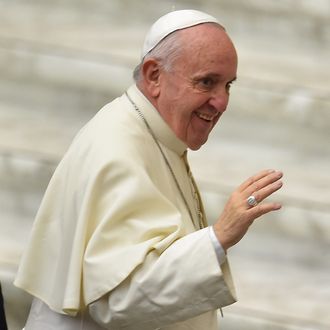 Pope Francis salutes members of the Christian Workers' Movement on January 16, 2016.
Photo: Vincenzo Pinto/AFP/Getty Images
Pope Francis, the leader of the Catholic Church, is a fan of the internet and the way it allows human beings to connect. We know this because he said so himself. In a message regarding the church's World Day of Communications, the pontiff said, "Emails, text messages, social networks and chats can also be fully human forms of communication."
He added, "It is not technology which determines whether or not communication is authentic, but rather the human heart and our capacity to use wisely the means at our disposal."
Extolling the virtues of digital communication makes it clear that Pope Francis — who once tweeted that "The earth, our home, is beginning to look more and more like an immense pile of filth" — has not spent a lot of time online. He has admitted as much.
Still, there is something very funny about the pope endorsing the web's power to close expansive geographical and emotional gaps when tweets like these constantly appear in his mentions.
The remarks made by Pope Francis were qualified slightly. He said that modern forms of communication were "a gift of God which involves a great responsibility." That's … so naïve. Nobody has had the heart to tell the most powerful religious leader in the world about all the terrible antics we get up to online. Please, nobody tell him. We must protect this pope at all costs.