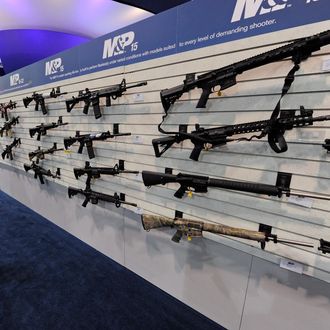 Photo: Ethan Miller/2012 Getty Images
Gun manufacturers were never among Barack Obama's top campaign contributors, but they probably should have been. Back in March of last year, the Washington Post estimated that anxiety over Obama's presidency (and various gun-control proposals) had driven firearm enthusiasts to spend $9 billion more on weapons than they otherwise would have. And on Tuesday, Obama sent one more shiver down the spine of Red America, shooting Smith & Wesson stock to an all-time high in the process.
While the president unveiled new executive orders on gun control in the East Room, the gun manufacturer saw its share price climb 11 percent to close at $25.86 — the highest mark Smith & Wesson has ever hit since going public in 1999. The gun-maker now anticipates revenue for the quarter ending on January 31 to be as high as $180 million, 11 percent higher than they'd projected in December.
Newly released data show that 2015 may have been the best year in the history of the domestic firearm industry. According to the FBI, federal background checks increased by 10 percent in the last year, reaching 23.1 million, the most since the system began operating in 1998.
According to Bloomberg, the firearm boom is powered by growing fears of both gun violence and gun control. The number of individual households that own firearms is flat, if not declining. But for committed gun owners, high-profile mass shootings, and the calls for new gun regulations that they inspire, provide ample motivation for increasing stockpiles.
As Christopher Ingraham notes in the Post, the reforms proposed by Obama on Tuesday are so minor, their biggest long-term impact may prove to be another record month for gun sales this January.