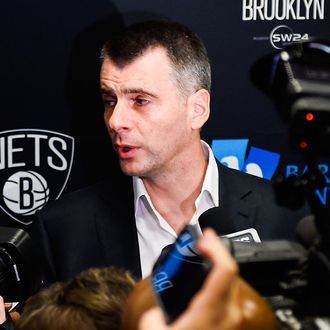 Mikhail Prokhorov, seen here in 2014, has had a win-now mentality that has left the Nets in turmoil.
Photo: Alex Goodlett/Getty Images
When Mikhail Prokhorov purchased the then–New Jersey Nets in 2010, he was hailed as the second coming of George Steinbrenner: a personality made for the tabloids, with deep pockets and a win-now mentality neatly summed up in his bold prediction upon becoming owner that the Nets would earn a title within five years. (Ever a quote machine, the playboy promised he'd settle down and get married as punishment if the Nets failed to meet that goal.) But the Nets have not yet sniffed a title since, and instead are a franchise in turmoil, firing coach Lionel Hollins and reassigning general manager Billy King after the team's 10–27 start to the season. And after all the comparisons to the longtime Yankees owner, Prokhorov seems to be the worst version of Steinbrenner, overseeing a franchise with no stability that has sacrificed long-term winning in a failed attempt at immediate success.
During the 1980s, nine different men took a crack at managing the Yankees, and though the team spent big on free agents like Dave Winfield, it failed to win a World Series during the decade. It wasn't until Steinbrenner was suspended in 1990 (for paying someone to dig up dirt on Winfield) that the franchise changed its focus and used its money to complement home-grown players who developed into the core of a new dynasty.
In Brooklyn, meanwhile, interim coach Tony Brown is the team's fifth head coach since moving into Barclays Center in 2012, and when the team hires a permanent replacement, that coach will be number six. (During his press conference today, Prokhorov pointed out that he's only actually fired two of those coaches, but he's nonetheless failed to hire someone to guide the team over the long term.)
Worse still is the general direction of the team, which has paid record luxury tax bills, preferring splashy trades and signings to developing young players. In the trade for Kevin Garnett and Paul Pierce alone, the Nets shipped away three first-round picks. Prokhorov had hoped to win quickly and steal attention away from the more established Knicks; instead, he's built a team with no real plan to move forward.
When Prokhorov met with reporters today, he said it was important that the team develop an identity, and that he'd be speaking with general-manager candidates about their strategy to build a winner. When asked if his desire to win a title within five years led to King, the former GM, making poor decisions, Prokhorov said, "I take full responsibility for the state of the team."
Prokhorov didn't sound like a completely changed man, though. He said he didn't want to rush things when filling these key personnel positions, but then also said, "I'm sure, for the next season, we'll be, I hope, a championship contender." Old mentalities, it seems, die hard.
As for the next coach, John Calipari, the Kentucky coach who spent parts of three seasons leading the Nets in the 1990s, has surfaced as a potential candidate. Yahoo reports that "Nets CEO Brett Yormark is determined to repackage John Calipari as a franchise savior," and that it'll take huge money to do it: His reported asking price is $120 million over ten years.
There's also the question of whether Prokhorov himself is in it for the long haul. He recently was approved to take over full ownership of both the Nets and Barclays Center, but there's been speculation he could be looking to sell. During his press conference today, though, Prokhorov said he has "no ideas to sell." Said the Nets owner: "I'm all in."