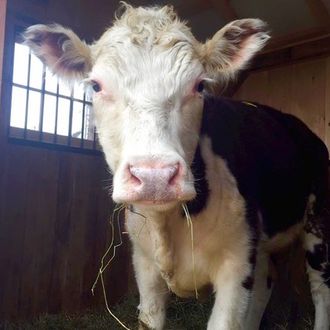 I win.
Photo: Skylands Animal Sanctuary and Rescue
A cow that was about to be killed in a Queens slaughterhouse, staged a daring escape, toured Jamaica until he got recaptured, and was about to face death once again now has a better life than you. The one-year-old Freddie, who is named after Freddie Mercury (Queen/Queens — get it?), will now spend the rest of his days relaxing at an animal sanctuary in New Jersey, sleeping in a barn and hanging out with a bunch of rescued pigs, goats, sheep, and chickens. Because this is a happy story, we're assuming this setup is more Charlotte's Web than Animal Farm. 
Freddie landed this lucky spot after the owner of the Skylands Animal Sanctuary and Rescue drove up to the slaughterhouse and waited all night to plead for the cow's life, reports DNAinfo. The owners agreed, and on the day he was supposed to be turned into someone's dinner he found himself on permanent vacation. He got a way better deal than a goat who also escaped from the slaughterhouse last week. Cops bought his life for $40, but in a Kafkaesque twist, he's now living only to be trapped in a Long Island petting zoo.
Freddie, not surprisingly, is said to be "doing great," though he's in quarantine for two weeks and did pop a blood vessel in his eye because of the whole ordeal. The human residents of Queens can sort of relate.