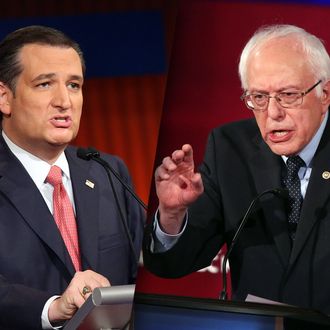 The right is a lot closer than the left to the tools needed to implement radical change.
Photo: Scott Olson/Getty Images; Andrew Burton/Getty Images
One of the subtexts of both the Democratic and Republican presidential nominating contests is how much change can realistically be expected in a political system characterized by partisan polarization and gridlock. Bernie Sanders implicitly accuses the last two Democratic presidents and the Democratic Establishment candidate for 2016, Hillary Clinton, of excessive timidity and an insufficient commitment to thoroughgoing economic and political change. Ted Cruz explicitly accuses his Republican Senate colleagues and presidential rivals of surrendering to liberalism without a fight. 
As Paul Krugman notes in his latest column, these demands for boldness are an old story in American politics, and also depend on sometimes-hazy, sometimes-delusional theories of how change happens:
[T]here are some currents in our political life that do run through both parties. And one of them is the persistent delusion that a hidden majority of American voters either supports or can be persuaded to support radical policies, if only the right person were to make the case with sufficient fervor.

You see this on the right among hard-line conservatives, who insist that only the cowardice of Republican leaders has prevented the rollback of every progressive program instituted in the past couple of generations …

Meanwhile, on the left there is always a contingent of idealistic voters eager to believe that a sufficiently high-minded leader can conjure up the better angels of America's nature and persuade the broad public to support a radical overhaul of our institutions. In 2008 that contingent rallied behind Mr. Obama; now they're backing Mr. Sanders, who has adopted such a purist stance that the other day he dismissed Planned Parenthood (which has endorsed Hillary Clinton) as part of the "establishment."
Krugman asks the right question to advocates of Big Change: How, exactly, is it supposed to occur? Progressives certainly do not want more "bipartisan compromises" than Obama contemplated, and for years Republicans have embraced super-lobbyist Grover Norquist's cynical comparison of bipartisanship to date rape. 
One idea, of course, is that inspired by the concept of the "Overton Window": that you can move the range of acceptable policies and thus the center of discussion by opening the bidding on any given topic with a more radical proposal. To use the most common example, Democrats might have gotten a more progressive health-care law enacted in 2010 if they had first proposed a single-payer system instead of a private system with a public option. The trouble with that example is that it was Democratic senators, not Republicans, who opposed the public option, the Medicare buy-in, and other progressive twists on Obamacare. With Republicans opposing any action at all, that's all it took. Now some left-bent folks would say this shows why "centrist" Democrats need to be removed from the party. But that takes time, and as 2006 showed, even a primary loss cannot necessarily remove a Joe Lieberman from office. 
Another thing you hear from Bernie Sanders himself is that the political system is fundamentally corrupt, and that progressive change can only become possible if the moneylenders are thrown out of the temple via thoroughgoing campaign finance reform. But that will require either a constitutional amendment — the most implausible route for change — or replacement of Supreme Court justices, the slowest. 
And then, as Krugman himself notes, there are "hidden majority" theories that hold that "bold" proposals can mobilize vast majorities of Americans to support radical action and break down gridlock. Few are as easy to explode as Ted Cruz's "54 million missing Evangelicals" hypothesis, but the belief of some Sanders supporters that Trump voters (and many millions of nonvoters) would gravitate to Bernie in a general election is not far behind as the product of a fantasy factory. 
You could go on all day with left-right parallelisms on the subject of radical change, but progressives should internalize this fact of life: The right is a lot closer to the left in possessing the practical means for a policy revolution (or counterrevolution, as the case might be). Whereas the left needs constitutional amendments and overwhelming congressional majorities to break the political power of wealthy corporations and other reactionary interests, the right only needs the presidency to reverse most of President Obama's policy breakthroughs. And assuming a GOP presidential victory would almost certainly be accompanied by Republican control of both parties in Congress (which is not at all the case for Democrats), a budget reconciliation bill that cannot be filibustered could briskly revolutionize health care, tax, and social policy without a single Democratic vote. 
So if radical change comes out of the 2016 election, it's more likely to be a wind blowing to the right than to the left. And that's worth considering as Democrats choose their leadership and their agenda.