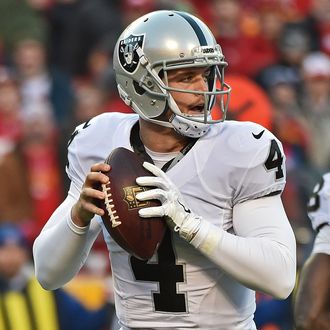 The Oakland Raiders are looking outside of the Bay Area for a new stadium.
Photo: Peter G. Aiken/Getty Images
The Oakland Raiders' lease at O.co Coliseum has expired, and the team has made it clear they're willing to leave town if that's what it takes to get a stadium deal to their liking. For years, they targeted the Los Angeles area, but with the NFL choosing the Rams' stadium project and giving the Chargers the first right to join them, the Raiders will likely be shut out in Inglewood. Two weeks ago, the billionaire former owner of the Vikings said in a radio interview that he's trying to convince the Raiders to relocate to San Antonio. Then came a report that San Diego could be an option for the Raiders if the Chargers leave for L.A. And now come reports that Raiders officials will check out Las Vegas next —  and that their visit will include a meeting with Sheldon Adelson about a potential stadium.
Raiders officials will reportedly tour sites in the Las Vegas area today, and, as part of the visit, team owner Mark Davis will meet with Adelson, the chairman and CEO of the Las Vegas Sands (and a major GOP donor), who wants to build a $1 billion domed stadium on the campus of UNLV. According to a Las Vegas Sands spokesperson, the project is a "public-private" partnership: The Sands or Adelson family would contribute most of the financing, but could seek to draw on public revenue sources, like a hotel-room tax earmarked for promoting tourism. The project is still at the concept stage, and at the moment the plan is for the stadium to serve as the home to the UNLV football team. But it could also host an NFL franchise.
The Raiders are negotiating a short-term lease in Oakland, and they're expected to remain there for the 2016 season. But without a longer-term solution in the Bay Area, they could relocate elsewhere. According to ESPN, the NFL "has had a hard line against Las Vegas," the gambling capital of the country. (The league didn't immediately respond to their request for comment.)
As for the meeting with Adelson, Davis wouldn't directly address it in a call with ESPN, telling them with a laugh, "In typical Raider fashion, I can neither confirm nor deny."