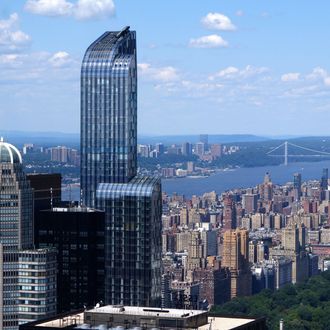 New condos (like One57, on West 57th Street) drove this quarter's boom.
Photo: William Edwards/AFP/Getty Images
Quarterly real-estate market reports are out today, and if you happen to have thought that the soft economic recovery would keep prices within reach, the brokerages have a message for you: Abandon hope, ye who enter. The median price of a Manhattan apartment has jumped 17.3 percent from the previous year, to $1.15 million, according to the Douglas Elliman report written by Jonathan Miller — the highest it has ever been. The average price now stands at $1,948,221, a 12 percent rise and also a new high. And the average price per square foot is also one for the books at $1,645, a 28.1 percent spike from the same period last year. There were 5 percent more closings, per the Corcoran Group's survey, for a total of 3,725.
It's a marked difference from the summer, when experts began to manage the expectations of real-estate watchers. Bess Freedman of Brown Harris Stevens spoke of a developing stalemate between sellers, some of whom were getting too demanding, and buyers, who were growing tired of their powerlessness. "They're just not in sync," she told New York back then. "Sellers have these unrealistic expectations … and buyers are unwilling to pay these really expensive prices — they're frustrated and are opting out."
 
Apparently some of those sellers started listening. "Being smart about pricing is key. You saw that this quarter more so than any other time," says Diane Ramirez, CEO of Halstead Property, explaining that she saw more discounts this quarter. "Seven hundred apartments had price adjustments; some were small, but [the attitude] was 'let's get our listings sold.' That's what you need to keep buyers interested." (Leonard Steinberg, president of the brokerage Compass, adds in an email newsletter sent yesterday that "many agents and sellers of unrealistically priced properties [adjusted] their expectations … The volume of price corrections is impressive.")
 
Look a little closer at the data, though, and the story grows more nuanced. The median price of a new property was up 15.4 percent to $2,059,411, says Miller — a true record. On the other hand, the median price for resales saw a much more modest jump of 8.1 percent to $960,000 — "the second highest but not a record," he points out. In other words, most of the price bump came from an unusual number of high-end condo sales that closed in the past three months. According to BHS, 50 percent of sales were condos, "the highest percentage since the first quarter of 2009." Many were luxury listings in new developments. In fact, per BHS, new development sales increased by 75 percent year-over-year, and in this quarter constituted 26 percent of deals.
 
Despite those subtleties, though, New York buyers of any apartment are in a hard situation these days. Banks have been exceptionally strict with their lending standards during this boom — in contrast to their looser attitude before the Lehman crash, when a median record (one that's now moot) was set. The tighter rules now make these numbers even more remarkable, and in fact, this quarter, "50 percent of the deals were cash," says Elliman president Dottie Herman, adding that an apartment in Manhattan seems like a better bet than the stock market or a mutual fund. "A lot of people are deciding they might as well buy real estate."
 
Inventory did actually finally grow this past quarter — in a market where supply is rarely equal to demand — but only just. Miller says there were 4,274 resale properties on the market last quarter, a 20.2 percent increase but well below the 20-year average of 5,199.
 
So is there any bright spot for buyers? Maybe a faint one. Corcoran's report shows the number of contracts signed — which will likely translate to closed sales these first three months — to have fallen by 12 percent. So maybe January will be a little cooler. Still, Miller says he's "not in the giving-hope business. The numbers are the numbers."