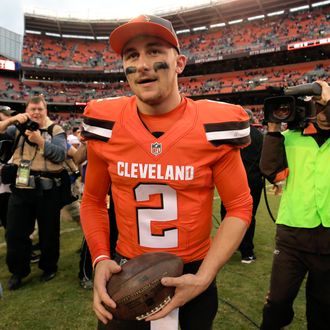 Manziel reportedly spent Saturday night in Las Vegas before missing a meeting on Sunday.
Photo: Andrew Weber/Getty Images
Johnny Manziel, the brash Browns quarterback who spent ten weeks in an addiction rehab center this summer, has had a tumultuous season off the field. In November, after a video surfaced of Manziel partying with a bottle of Champagne, the Browns demoted him from their starter to the third-stringer. He got the job back two weeks later, but the Browns had reportedly become increasingly concerned about his partying, and now comes a report that he spent Saturday night in Las Vegas, in a disguise, before missing a team meeting on Sunday morning.
Manziel had been diagnosed with a concussion during the team's December 27 game and therefore wasn't required to attend the Browns' season finale with the Steelers. Manziel was at the Browns' practice facility on Saturday morning, but he never showed for a meeting the following day that was required as part of the protocol for a concussion. The team also couldn't reach him by phone on Sunday.
USA Today reported that Manziel was spotted at a Las Vegas casino Saturday night, citing "employees and patrons who interacted with the embattled quarterback." From that report:
Manziel, who Browns coach Mike Pettine said still must address off-field problems that resulted in a stint in rehab last year, paid cash for a meal at a restaurant in the casino, according to Tina Samira, a waitress who served Manziel and his guests at Heart Bar at Planet Hollywood.

Manziel also sat down at a blackjack table and a casino employee examining his photo ID exclaimed, "We've got Johnny Manziel with us tonight," according to John Hornacek, a 43-year-old casino patron who witnessed the exchange.
Meanwhile, after that report was published, Manziel posted a photo of himself with his dog with the hashtag #SaturdayNights, and geotagged it in Avon, Ohio.
Now ESPN Las Vegas radio host Mitch Moss has offered another twist: that Manziel wore a blond wig, a fake mustache, glasses, and a hoodie to disguise himself, and introduced himself as "Billy." A Facebook post on the ESPN Las Vegas page reads in part:
We all know Vegas stories can get extremely crazy involving celebrities. This is going to sound wild, and maybe hard to believe, but this is what we're hearing regarding Johnny Manziel.

Our sources tell us Manziel was at a popular night club on the strip Saturday night. The QB entered wearing a blonde wig, a fake mustache, glasses, and a hoodie.

Manziel introduced himself as "Billy." He was there into the 3am hour and when it came time to pay the bill, he asked to have it comped because he didn't bring cash and also didn't want to put it on his card.

However, the sources tell us he ended up paying with his card and signing the check.
And via Cleveland.com: "WTAM's Will Burge tweeted that he's positive it's true, and later said on the air that he has a screen-shot of a Snapchat with Manziel in disguise."
Manziel did show up to the Browns' exit interviews yesterday, but he may have run out of chances in Cleveland. According to Sports Illustrated's Peter King, the Browns are "so done" with Manziel, who wants to play for Dallas.