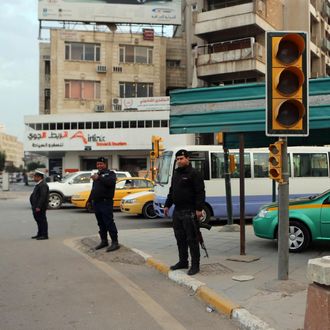 Iraqi security forces search for missing Americans in Baghdad.
Photo: Khalid Mohammed/AP/Corbis
Three Americans were kidnapped in Baghdad Friday night, according to local security officials. If early reports prove true, this would be the first abduction of Americans in Iraq in more than five years.
A Shiite militia appears to have kidnapped the three Americans from an apartment in the Baghdad neighborhood of Dora, officials told the Washington Post. However, while some reports suggest the apartment belonged to the Americans' interpreter, others claim the unit was part of a well-known brothel. At least two of the abductees are believed to be dual citizens of Iraq and the United States, while the third is thought to be an Egyptian-American, the New York Times reports. The men are reportedly employees at the Baghdad airport.
Dora is located in the southern part of the capital and became a haven for Al Qaeda in Iraq, after the American invasion. But today parts of the neighborhood are under the control of powerful Shiite militias with ties to Iran.
Those militias are supposed to serve as security forces, under the direct control of Iraqi prime minister Haider al-Abadi. But a series of alleged abuses and kidnappings by these forces has cast doubt on the prime minister's capacity to police his own police.  
The militias are suspected of kidnapping 17 Turkish construction workers from Baghdad last year, only to release them later, unharmed. In mid-December, more than two dozen Qataris, some with ties to that nation's royal family, were taken from Iraq's southern desert. Authorities believe they were abducted by a Shiite militia for political reasons. Those abductees have yet to be found.
The State Department said it was aware of the alleged abduction late Sunday night.
"We are working with the full cooperation of the Iraqi authorities to locate and recover the individuals," spokesman John Kirby said in a statement.