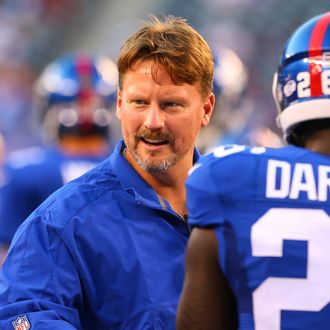 After two seasons as offensive coordinator, Ben McAdoo will reportedly be elevated to head coach.
Photo: Rich Graessle/Icon Sportswire/Corbis
The Giants weren't expected to make a flashy hire to replace longtime head coach Tom Coughlin, because, with a list of mostly uninspiring candidates, there weren't many flashy hires to be made. And now we know that they'll be promoting from within the organization: Ben McAdoo, the team's offensive coordinator for the past two seasons, has been hired as the 17th head coach in franchise history.
McAdoo, 38, learned under Mike McCarthy in San Francisco and Green Bay, rising to the position of Packers quarterbacks coach before being hired as the Giants offensive coordinator in 2014. He was a hot name in coaching circles that year, but not widely known to fans. But internally, it's believed McAdoo was considered a head coach in waiting, even if co-owner John Mara dismissed those rumors after McAdoo's first season by saying he "didn't know Ben McAdoo from Bob McAdoo."
McAdoo had interviewed with the Eagles about their coaching vacancy last week, and Philadelphia's interest in him was reportedly growing, so keeping him away from a divisional rival likely factored into the Giants' decision. In all, the Giants interviewed six candidates, but it didn't hurt that McAdoo had the endorsement of Eli Manning, who played well under McAdoo and ran an offense that finished tenth and eighth overall, respectively, in McAdoo's two seasons as coordinator, despite some obvious personnel issues.
McAdoo has not served as a head coach at any level, but it's been pointed out that the Giants also elevated a relatively obscure coordinator to the top job in late 1982, when they named future Hall of Famer Bill Parcells head coach. In the New York Post, Mike Vaccaro writes that "you can believe that they see in McAdoo a lot of the same things [George] Young saw in Parcells some 33 years ago: A young, bright mind sure to be in demand at some point, who had paid his dues, who said all the right things while they were being evaluated." So, no pressure or anything.
Last weekend, both Mike McCarthy and Aaron Rodgers, whom McAdoo coached while in Green Bay, threw their support behind McAdoo's candidacy after the Packers' playoff win in Washington. McCarthy called him "the ultimate preparation individual. He's prepared for this opportunity for a long time. He's paid his dues. He's earned his stripes."
This post has been updated with the official announcement of McAdoo's hire.