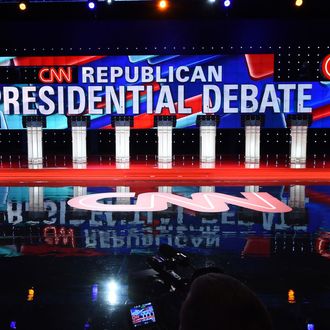 Hopefully they saved these podiums.
Photo: Robyn Beck/AFP/Getty Images
Hopefully the folks at NBC News had a good time hosting last night's Democratic debate, because it may be their last of the 2016 cycle. The Republican National Committee announced on Monday night that it's canceling its partnership with NBC for the debate scheduled for Friday, February 26, which is days before Super Tuesday. "The RNC has awarded the debate to CNN, who will broadcast it on Thursday, February 25, in Houston at a location to be decided," RNC chairman Reince Priebus said in a statement.
The RNC suspended its partnership with NBC in October after CNBC debate moderators asked questions the Republican campaigns felt were "horrendous," "stupid," and "ridiculous." NBC said at the time that it would "work in good faith to resolve this matter with the Republican Party," but the committee voted on Monday to go with CNN instead.
Now, by the end of the primary cycle, CNN will have hosted four GOP debates. CNN's Jake Tapper and Dana Bash moderated the second GOP debate, and Wolf Blitzer tackled the fourth. The network was already scheduled to host another debate in March. CNN has not announced who will moderate the two upcoming debates, but we'd advise Anderson Cooper, who helmed the first Democratic debate, to clear up his schedule.
For viewers, the switch means they won't have to cancel weekend plans to watch the debate, and it's likely to be more hectic. The debate will include CNN's usual conservative partner, Salem Media Group, as well as NBC's partners Telemundo and National Review. If each outlet gets a few questions, how will they make time for weird queries submitted via social media?