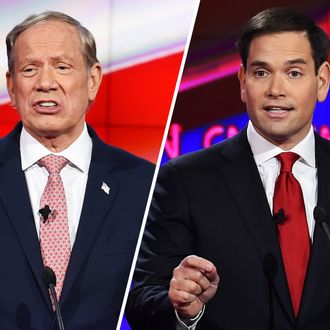 Rubio needs weightier endorsements than that of George Pataki.
Photo: Robyn Beck/AFP/Getty Images
Former presidential candidate and New York governor George Pataki announced on Tuesday that he's "throwing his support," as ABC News put it, to Marco Rubio. I bet it was like catching a feather. 
But it was characteristic of how the great-on-paper Rubio campaign has progressed. With the invisible primary coming to an end, it's time for Rubio, everybody's early smart-money candidate for the GOP nomination, to start piling up the kind of support that suggests a big, clanking political machine. Instead he's winning over George Pataki. 
Back at the beginning of December I wrote a piece that didn't deny Rubio's superior positioning and potential rock-star status, but did express some puzzlement over exactly where and when he'd start winning primaries. The puzzle has only gotten deeper. 
Despite constant talk of some Rubio "surge" in Iowa, he remains mired in third place there, far behind Ted Cruz and Donald Trump. In New Hampshire, supposedly the breakthrough state for any Establishment favorite, he's stuck in the low teens, about 20 points behind Trump, and also behind (in the Real Clear Politics polling averages) Cruz and John Kasich. South Carolina? A very similar story: polling in the low teens, down more than 20 points to Trump, and well behind Cruz. Even in Nevada, where his early life as a Las Vegas Mormon was thought to give him a good chance at an early state upset, the one recent poll shows him at about a three-to-one disadvantage to Trump and a two-to-one deficit to Cruz. And then on March 15, after what does not look to be a very promising "SEC Primary" two weeks earlier, comes the potential grim reaper: Rubio's home state of Florida, a winner-take-all primary he cannot afford to lose no matter how he looks nationally. There he is again mired in third place, far behind Trump, and with Jeb Bush, who cannot afford to lose there either, crouched right behind him with whatever's left of his shock-and-awe war chest, and with no choice but to spend it on destroying Rubio. 
Speaking of Jeb!: Despite the moribund condition of Bush's campaign, Rubio still hasn't caught him in the FiveThirtyEight tabulation of endorsements, which is beginning to seem strange for someone supposedly running as the last great hope of the party Establishment. And even the mythology of Rubio as the Chosen One is growing thinner, given all the talk of party Establishment types deciding to embrace Donald Trump (albeit at a distance, with fire tongs) in order to stop that other Cuban-American senator. 
With voting about to begin, things will start happening very rapidly, so the idea that Rubio's waiting in the weeds for a late-breaking win is becoming less credible each day. And today, and every day from here on out, he'll need more support "thrown" his way than George Pataki can provide.