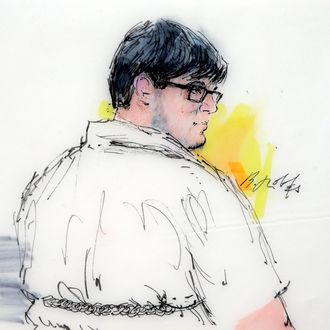 Photo: Bill Robles/© Corbis. All Rights Reserved.
Enrique Marquez, the 24-year-old man accused of obtaining and lending two rifles to the perpetrators of the mass shooting in San Bernardino, pleaded not guilty in federal court on Wednesday.
He provided only brief replies to the judge's questioning, the Los Angeles Times reports.
Marquez faces charges, from five years' worth of investigations, of conspiring to provide material support to terrorists, lying about buying the rifles, marriage fraud, and lying on his visa application.
According to the criminal complaint, Marquez bought a rifle for just over $740 in late 2011; three months later he bought another for about the same price. He signed papers saying he was the buyer, but allegedly purchased the guns for the San Bernardino shooters, Rizwan Farook and his wife, Tashfeen Malik.
Marquez and Farook were once neighbors and had known each other for about ten years. The charges of marriage fraud and making a false statement on a visa application come from an alleged sham marriage between Marquez and a Russian woman named Mariya Chernykh, who happened to be Farook's brother's sister-in-law.
Marquez is also accused of buying a container of smokeless powder for the un-detonated pipe bombs that Farook left in a conference room during the shooting. He faces up to 50 years in prison.
Fourteen people were killed in the shooting last month.
The New York Times visited a dive bar where Marquez used to work, and customers talked of the strange things he'd say when he got tipsy. "He would say stuff like: 'There's so much going on,'" one regular said. "There's so many sleeper cells, so many people just waiting. When it happens, it's going to be big. Watch.'"