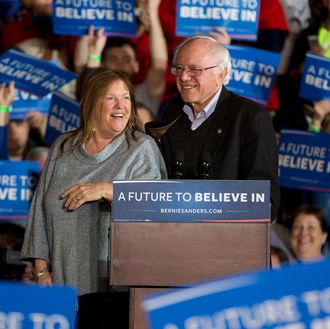 Cash money.
Photo: Jae C. Hong/AP/Corbis
What doesn't kill Bernie Sanders only makes him better-funded.
That's the dilemma facing the Clinton camp, as the socialist senator starts breathing down her neck. For most of the campaign, the former secretary of State has been far enough ahead of Sanders to comfortably ignore him. But now that her insurgent rival is on her heels in Iowa, in front in New Hampshire, and creeping up in national polls, the silent treatment is no longer an option. The trouble is, confronting Sanders brings its own perils: If you come at the Bern, you best not miss — because every attack comes with the risk of putting more money into his coffers.
Since Clinton amplified her criticisms of the Vermont senator's gun-control record and health-care plan earlier this week, the Sanders campaign has raised $1.4 million, the Washington Post reports.
"We've gotten 47,000 contributions. We're projecting 60,000 donations," Sanders spokesman Michael Briggs told the paper on Wednesday. "Even for our people-powered campaign, this is pretty darn impressive."
The central narrative of the Sanders campaign — the one that has energized so many small-dollar donors — is that of a mass movement confronting an all-powerful Establishment that will stop at nothing to prevent their political revolution. For Sanders's supporters, Clinton's attacks only affirm this story — especially when they hit him from the right. And so when Chelsea Clinton defamed Sanders's plan for universal health care, it only took one email decrying the Clinton camp's "viscious and coordinated attacks" to get the senator's legions of would-be Davids to pummel Goliath with $5 donations.  
The same thing happened last month, when the DNC briefly barred the Sanders campaign from accessing the party's voter file after a few of the senator's staffers improperly accessed confidential Clinton data: One email blast warning of the Establishment's crooked ways and that setback turned into a fresh $1 million.
What makes the Sanders persecution narrative so effective is its essential truth. Of course the Democratic Establishment doesn't want Sanders to be their nominee — he's been a Democrat for less than a year and constantly disparages the party's Establishment. And the DNC really did put its thumb on the scale for Clinton by burying the primary debates behind major sporting events.
This potent persecution complex, combined with the senator's vast network of small-dollar donors, presents the Clinton camp with a fundamental challenge: How do you attack Sanders without throwing him a fund-raiser?