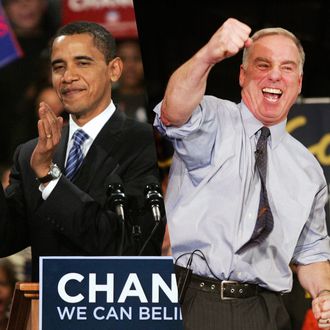 Bernie Sanders's youth-based Iowa campaign could go one of two ways on caucus night.
Photo: Saul Loeb/AFP/Getty Images; Timothy A. Clary/AFP/Getty Images
A new Des Moines Register/Bloomberg Iowa poll of the Democratic presidential race from renowned local pollster Ann Selzer was released today. And while it showed Hillary Clinton hanging on to a lead over Bernie Sanders, it had declined to two points after the December Selzer poll showed her up by nine.
While everything about the new poll shows a very tight race, there are some variables that could be important. Twenty-six percent of those in the survey report themselves to be first-time caucusgoers; that's well under the 43 percent number for 2008, but also made understandable by that year's very high turnout. Beyond that, there are some paradoxes in the findings:
Sanders continues to rely on the same coalition that gave Obama his first win in 2008. Sanders leads Clinton decisively among three demographics responsible for the president's 2008 upset: 52 percent to 34 percent among first-time caucus-goers; 62 percent to 21 percent among independents; and 59 percent to 27 percent among people under 45. Together those demographics comprise 57 percent of all likely Democratic caucus-goers. But Clinton, Obama's one-time rival turned ally, has made some inroads in his coalition: Among survey respondents who said they caucused for Obama in 2008, Sanders leads Clinton by a statistically insignificant 41 percent to 39 percent.
But Bernie's very dependent on one of the tougher demographics to get to the caucus sites:
A caveat for Sanders is that his support appears to be concentrated in three Iowa counties—Black Hawk, Johnson, and Story—that are home to state universities. Those counties, where Sanders leads Clinton, 52 percent to 30 percent, account for 27 percent of his vote but just 21 percent of likely Democratic caucus-goers, underscoring the extent to which Sanders is relying on younger voters, a notoriously difficult group to turn out.
So as the caucuses approach, the big question is whether Sanders can turn out his target constituencies in sufficient numbers to offset Clinton's lead among prior caucusgoers, as Obama did in 2008, or fails to do so, as fellow Vermonter Howard Dean did in 2004. It's notable that in 2008 under-30 voters in Iowa were 22 percent of the total, as opposed to 17 percent in 2004. Total turnout was also massively higher in 2008: 235,000 as opposed to 125,000 in 2004. 
Now, Dean had some problems Sanders may not have, most notably the momentum of his principal rival, John Kerry, and the presence of a third candidate in the field, John Edwards, who caught fire late and won a lot of the voters who had previously looked inclined to the Vermont governor. But for all their impressive field operation and rising poll numbers, Team Bernie has to be haunted by the specter of all those orange-hatted Dean volunteers in Iowa who may have discomfited actual caucusgoers as much as they mobilized them. 
It's unclear at this point whether Sanders's big rallies in Iowa and elsewhere will wind up attracting or repelling voters who aren't already in his camp. It's also unclear whether his campaign or Clinton's can do the best job of playing the expectations game from here on out, given the close polls. But it is a very good bet that neither the winner nor the loser will utter anything that the news media can treat as a scream.