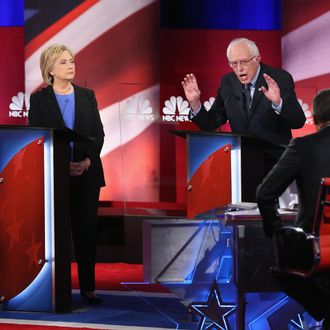 Sanders was a little more diplomatic about the issue Sunday night than he was Sunday morning.
Photo: Andrew Burton/2016 Getty Images
Since international sanctions over Iran's nuclear program ended this weekend, naturally Hillary Clinton and Bernie Sanders were asked about future relations with the country during Sunday night's Democratic debate in South Carolina. Both applauded the nuclear deal and its newly U.N.-certified success, but they differed somewhat in their responses when asked if they would seek to restore full diplomatic relations with Iran.
Sanders said that the U.S. should "move as aggressively as we can" to normalize relations with Iran, noting that while he wouldn't reopen the embassy tomorrow, "I think the goal has got to be, as we have done with Cuba, to move in warm relations with a very powerful and important country in this world." (The U.S. reestablished full diplomatic relations with Cuba last year.) Sanders also said that the U.S. should be working with Iran (and Russia) to deal with ISIS and the conflict in Syria.
The more traditionally hawkish Clinton, on the other hand, was much more keen on emphasizing her part in pressuring Iran up to this point, rather than envisioning a better relationship in the near future. Noting how she helped impose the nuclear-program-related sanctions, which ultimately forced Iran to negotiate, she added that "We still have to carefully watch them," as well. "We've had one good day over 36 years, and I think we need more good days before we move more rapidly — before more normalization," she said. "And we have to be sure that they are truly going to implement the agreement, and then we have to go after them on a lot of their other bad behavior in the region."
On Sunday, after a plane carrying newly released Iranian-Americans had left Iran, the White House imposed new sanctions on the country, not related to their nuclear program, but regarding ballistic-missile tests they recently conducted — a move Clinton had herself called for prior to the announcement.
Sanders also criticized Clinton regarding Iran on Sunday morning, mentioning how, in 2007 during the Democratic primary race, she had called President Obama "naive" when he said he would be willing to sit down and talk to Iran. Sanders said the successful nuclear agreement proved that Obama was right and Clinton was wrong, though as PolitiFact notes, Clinton was in fact seeking a more cautious approach than Obama at that time, rather than explicitly ruling out direct diplomacy as Sanders is implying.
Watch the candidates' full Iran answers from Sunday's debate below: